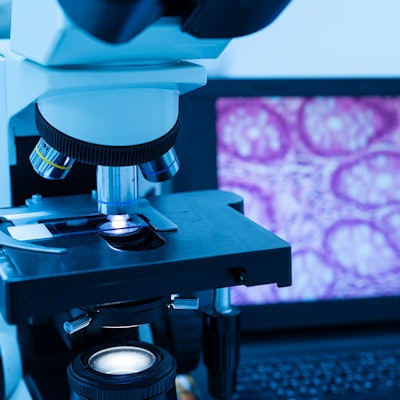 During the COVID-19 pandemic, forensic pathologists have metaphorically "run into the burning building" and not away from it, Dr. Emily Volk, president of the College of American Pathologists (CAP), said in a talk at the group's 2021 annual meeting. Volk and other pathologists spoke about the questions, issues, and fears they have contended with during the pandemic.
Especially in the early stages of the pandemic, there were numerous unknowns about how to proceed with autopsies because COVID-19 was an unknown disease. What type of infectious disease was it? Was it like tuberculosis, HIV, hepatitis C, or mad cow disease?
Pathologists also didn't yet understand how the virus spread on surfaces, which led to issues such as how to handle body bags in the setting of deceased management, according to Dr. Alex Williamson, director of autopsy pathology and a pediatric pathologist at Northwell Health in New York.
"We had a new disease the world had never seen before," Williamson said during a virtual presentation at CAP 2021. "Coming together with our shared experience, we were able to come up with guidance from government agencies ... erring on the side of caution."
However, performing autopsies when so much was not yet known about COVID-19 came with mental and emotional stress, according to co-presenter Dr. Carolyn Glass, chief of cardiovascular pathology and director of the autopsy service at Duke University Medical Center in Durham, NC.
"Again, we didn't know what was safe," Glass said. "To be real, it was quite emotionally hard, and I'm very thankful that the colleagues on this call, as well as those across the country, chose to perform these autopsies, because I think it takes a lot of courage on not just the attending [physicians] but really from the technicians to everybody that was involved."
What helped ease some of the fear surrounding COVID-19 in the early stages of the pandemic is that pathologists already had numerous safeguards in place, such as adequate ventilation, training, and sanitation practices.
"Bringing all of our usual daily experience to bear was the first step," Williamson said. "How we got through is we relied on our sound principles, and I think that speaks to the importance of supporting autopsy education and training because, again, when the next pandemic comes, the next generation has to be able to respond and answer the bell."
If the next generation of forensic pathologists don't have the tools, training, or resources, all of medicine and, therefore, all of public health will suffer, Williamson added. That's because, as Williamson and his co-presenters emphasized, autopsies are not for the deceased but rather the living.
"We obviously have the benefit and the privilege and responsibility to examine those who have died for the family and for the clinicians who cared for that patient," Williamson said. At the same time, "we need to understand what's happening and share that information almost real time with our clinical colleagues so they can better manage the next patient to come in with that disease."
By performing autopsies, pathologists were not only able to understand COVID-19's effects on the body, but they determined other factors at play in deaths from the virus, such as underlying cardiovascular disease.
"I think it's important to understand not only what is directly responsible for killing someone but [to] also understand other pathologies, which we then can hopefully intervene on in our society," Williamson said. "We can better triage patients and then we, as a public, need to realize that we all have a role to play in not only COVID-19 but future diseases and pandemics in which we can do a better job, I think, of managing our health and getting the word out about comorbidities that may make us more vulnerable to the next infection."
At the same time, having the tools to elucidate what COVID-19 does at a tissue level, what is happening mechanistically, is a huge benefit, Glass said.
"That is a really unique resource that we have as an autopsy team, because I think a lot of the basic pathophysiology of what the virus is doing and in what tissues is very helpful," Glass said. "It facilitates not only treatment but future treatments."
Pathologists are at ground zero for a disease like COVID-19, Volk added. "As pathologists, we get to stare disease right in the eye every day," she said. "As you all are doing your autopsies and you're looking through the microscope, you all get to see on the frontlines exactly what's happening at the cellular level. And again, that information and the way you all convey it to other colleagues is so critical."
Pathologists are focused on truth, Volk added: "Seeing the truth, finding the truth, and telling the public what is real and what is true."