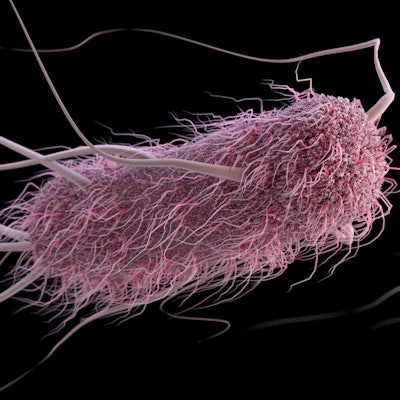 Patients suspected of having sepsis must get blood cultures prior to antibiotic therapy, in line with national guidelines, according to a study published September 17 in the Annals of Internal Medicine. The data may suggest a bigger role for automated blood culture systems, some market analysts say.
The single-group study known as FABLED focused on 325 people with severe symptoms suggesting sepsis who were seen in North American emergency departments. Researchers found a big difference between results from an initial culture taken prior to antimicrobial therapy and a second culture taken soon after treatment, i.e., between 30 and 120 minutes afterward. The median time to a second culture was 70 minutes.
Blood cultures taken prior to antimicrobial therapy were positive for one or more pathogens in 31.4% of cases, compared with 19.4% after treatment, reported Dr. Matthew Cheng, a clinical instructor in infectious diseases at Brigham and Women's Hospital, and colleagues. In absolute terms, there was a statistically significant difference of 12%. The sensitivity of a blood culture taken after antimicrobial treatment was low, at 52.9% in the study.
"Collection of blood cultures before antimicrobial administration in patients with sepsis is a best-practice recommendation and a key component of national quality measures," the authors wrote. "Although these recommendations may delay initiation of antimicrobial therapy, our results suggest that obtaining blood cultures after initiation of empirical treatment reduces sensitivity by approximately 50% when preantimicrobial cultures are positive."
Haste makes waste
Because sepsis is associated with high mortality, there is sometimes a rush to provide antibiotic therapy before obtaining blood cultures; however, the implications of doing so have been unclear. In the largest prospective study to the researchers' knowledge that compared patients sampled before and after antibiotic therapy, the second set of cultures were taken up to 36 hours after the start of treatment, giving the findings limited utility.
FABLED (full title: Effect of Antimicrobial Administration on Blood Culture Positivity in Patients with Severe Manifestations of Sepsis in the Emergency Department) was a single-group diagnostic study funded through a quality improvement initiative by Vancouver Coastal Health, a network of health providers in British Columbia, and grants from Canadian foundations.
Seven urban emergency departments participated in the research. Blood cultures were assessed at each site, per study protocol, and antibiotics were delivered by infusion. The primary end point was the sensitivity of blood cultures taken within 120 minutes after the initiation of antimicrobial therapy. However, it sometimes wasn't possible to obtain the second cultures so quickly, so the study protocol was amended to include patients who had cultures done up to 240 minutes after treatment initiation.
The most common culprits for sepsis were respiratory and urinary tract infections. In preantimicrobial blood cultures, the following pathogens were most commonly reported:
Escherichia coli (22.5%)
Staphylococcus aureus (15.7%)
Streptococcus pneumoniae (12.7%)
"Culture sensitivity was reduced at all times after antibiotic administration," Cheng and colleagues wrote. "This reduction in sensitivity after antimicrobial therapy was not compensated by extending cultures to other anatomical sites and remained meaningful after all microbiological cultures were considered."
The authors noted that their conclusion in support of getting cultures prior to antibiotic therapy is in line with consensus guidelines from the Surviving Sepsis Campaign, an initiative led by the Society of Critical Care Medicine and the European Society of Intensive Care Medicine (Rhodes et al, Intensive Care Medicine, March 2017, Vol. 43:3, pp. 304-377)
"Despite the importance of early antimicrobial administration in this patient population, our results support the Surviving Sepsis Campaign guidelines and suggest that preantimicrobial blood cultures should not be routinely deferred," Cheng and colleagues wrote.
Editorial advises blood cultures come first
In an accompanying editorial also published September 17 in the Annals of Internal Medicine, Yale physicians Dr. Mark Siegel and Dr. Jacqueline Geer highlighted the seriousness of sepsis, which they noted affects millions globally each year. The timing of the administration of antibiotics for septic shock, the most severe type of sepsis, "tracks closely with survival, with the odds of death increasing by as much as 10% per hour of delayed treatment."
"In patients with sepsis or septic shock, the pretest probability of bacteremia ranges from 38% to 69%," Siegel and Geer wrote. "Positive blood culture results allow clinicians to select antibiotics that target the offending pathogens and to withdraw unnecessary medications, which decreases cost and risk for side effects and antibiotic resistance."
The authors stressed the importance of obtaining blood cultures quickly, as delays are an issue in practice. They suggested more research is needed on how to ensure blood is drawn quickly and to identify patients who likely wouldn't benefit from cultures and should therefore be treated immediately.
In the future, new molecular techniques could become available that will provide enough information -- even after antimicrobial therapy is administered. But until then, clinicians should quickly obtain blood cultures and then immediately provide antibiotics to give patients the best chance at survival, Geer and Siegel concluded.
The study provides more scrutiny of the practice of blind prescribing and the use of broad-spectrum antibiotics in sepsis, commented Bruce Carlson, publisher of market research company Kalorama Information, a sister company of LabPulse.com. Along with other studies classifying different genetic types of sepsis, it shows that one-size-fits-all approaches are not optimal, he said.
"It's an additional piece of evidence that there's a need for smart testing done at the right time so it can be most useful," Carlson said.
The need for treatment to wait on culture results may drive attention to automated blood culture systems that can help make a diagnosis more quickly, with faster workarounds and less risk for operator error, he added.