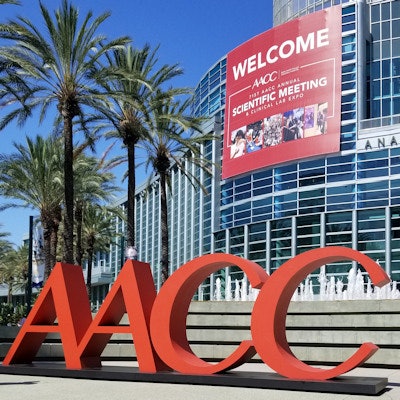 ANAHEIM, CA - A blood test for sepsis developed by California startup Inflammatix beat out products from two other companies to win the Disruptive Technology Award on Monday at the American Association for Clinical Chemistry (AACC) meeting.
In the second annual edition of the competition, the company's HostDx Sepsis test for detecting sepsis won the majority of votes from an expert panel of five judges, as well as the audience participation vote. Inflammatix CEO Dr. Tim Sweeney, PhD, accepted a $5,000 prize on behalf of the Burlingame company for winning the award.
The other two finalists in the competition were a point-of-care (POC) hematology test from PixCell Medical Technologies of Israel and a blood test for colorectal cancer screening from Singlera Genomics of La Jolla, CA.
A stepping stone to success?
The Disruptive Technology Award is designed to recognize innovative technologies for diagnostic testing that have the potential to improve patient care. Inflammatix, PixCell, and Singlera were the finalists from among a host of submissions solicited by the AACC for the award.
Although the contest is still relatively new, it's already developed a reputation in the diagnostics industry as a potential harbinger of future success. Last year's winner, GNA Biosolutions, this week announced the closure of a $13.5 million investment round that it plans to use to help fund the development of its Pulse Controlled Amplification (PCA) point-of-care molecular diagnostic technology.
In his presentation at AACC 2019, Sweeney discussed how the company's HostDx technology was developed to detect any kind of infection in the blood. HostDx Sepsis and HostDx Fever are the two lead products being brought to market, based on technology licensed from Stanford University.
HostDx technology reads patterns of mRNA in the blood, using the firm's high multiplex isothermal IVD test system and quantitative isothermal assays and algorithms. It generates three scores, indicating the likelihood of bacterial infection, the likelihood of viral infection, and severity in terms of 30-day mortality, and groups the scores into color-coded bands to make them easy to interpret.
Test results are delivered at the point of care in 20 to 30 minutes and are designed to help physicians determine the most effective treatment for a patient, such as antibiotics or hospitalization. The company is specifically designing the HostDx products to fit into the busy workflows of clinical labs, Sweeney said.
Inflammatix plans to file a 510(k) application for HostDx Sepsis and had a presubmission meeting with the U.S. Food and Drug Administration earlier this year. Sweeney said the company hopes to sell the product with a "razor and razor blades" model. Inflammatix is also developing products targeting other infections, such as tests for the flu or for predicting inflammatory response.
PixCell and Singlera
Executives from PixCell and Singlera also made the case for their novel technologies at AACC 2019.
Hanan Ben-Asher, chief operating officer and business development manager of PixCell, described his company's HemoScreen POC product, a portable analyzer that uses disposable cartridges for determining complete blood count (CBC). CBC is the most common blood test, with almost 1 billion performed each year, but the test is mostly confined to centralized labs. This creates delays in reporting results to physicians and potentially affects patient outcomes.
HemoScreen could help address this issue. The system operates with a single drop of blood, and its disposable cartridge reduces maintenance and calibration issues. The analyzer is designed to deliver results in five minutes, with accuracy comparable to results from major laboratory analyzers.
The third competitor, Singlera Genomics, is developing a blood-based test for colorectal cancer screening that is designed to improve upon both invasive colonoscopy and stool-based tests, according to Athurva Gore, associate director of bioinformatics at the company. By improving colon screening rates, thousands of lives could be saved every year, Gore noted.
Singlera's ColonES test detects circulating tumor DNA in blood that it analyzes with the company's proprietary MethylTitan technology, which allows targeted next-generation sequencing (NGS) of methylation haplotypes. ColonES is compatible with multiple NGS platforms and can be performed in any high-complexity CLIA lab, according to Gore.
Clinical trials are underway with ColonES, and Gore referenced a longitudinal study performed in China in which 1,283 plasma samples were analyzed for five types of cancer and the individuals were followed over time to see which ones developed cancer. The test was able to identify signals of cancer in the blood four years before the cancer was eventually detected, Gore said.