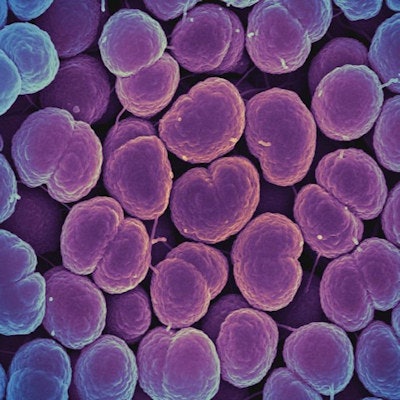 A company developing a rapid diagnostic test for the microorganism that causes gonorrhea has won $19 million in a challenge that's part of the U.S. government's Antimicrobial Resistance Diagnostic Challenge.
Visby Medical won the prize for its patient-side, disposable, molecular polymerase chain reaction (PCR) diagnostic device that detects Neisseria gonorrhoeae as well as markers of drug resistance. The device is a palm-sized, single-use, disposable device that detects N. gonorrhoeae and can determine whether the bacteria is susceptible to a single-dose antibiotic.
This type of rapid testing that includes assessment of antibiotic susceptibility has not been available previously as a point-of-care diagnostic device. The Visby device could be useful in ensuring that patients with gonorrhea receive the appropriate antibiotic so that they can immediately begin treatment. It will also allow other antibiotics to be used for patients with drug-resistant strains of N. gonorrhoeae if it is approved by the U.S. Food and Drug Administration.
Co-sponsored by the U.S. National Institutes of Health (NIH) and the Biomedical Advanced Research and Development Authority (BARDA) of the Health and Human Services Office of the Assistant Secretary for Preparedness and Response, the challenge encourages companies to come up with technologies that can reduce unnecessary use of antibiotics, which drives antibiotic resistance.