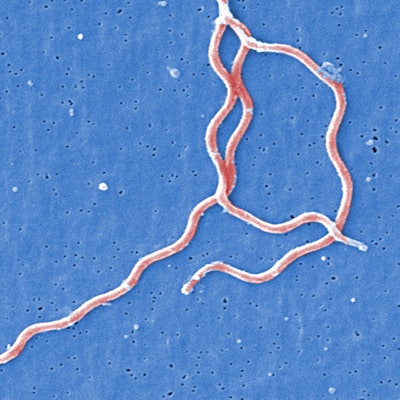 Qiagen and DiaSorin are teaming up on the development of a more sensitive test to enable earlier detection of Lyme disease, with plans in 2020 to validate the diagnostic in trials and submit filings in the U.S. and Europe, the companies announced on June 5.
Development of the test for Lyme disease, which is also called borreliosis and is transmitted by blacklegged ticks, will build on an ongoing collaboration to combine Qiagen's QuantiFeron interferon gamma release technology and DiaSorin's Lyme disease testing arrays.
The aim is to develop a test that can detect infection by the Borrelia burgdorferi pathogen that causes Lyme disease earlier than current methods, which have been widely criticized as inadequate and have spurred calls for improvements from consumers and providers.
The U.S. Centers for Disease Control and Prevention (CDC) advises a two-step testing approach for Lyme diagnosis, which may be done with a single blood sample. The first step is either an enzyme immunoassay or an immunofluorescence assay. If positive, confirmation is made through an immunoblot test, also called a western blot, which screens for immunoglobulin G (IgG) and immunoglobulin M (IgM) antibodies triggered by a B cell immune response. Both tests must be positive to make the diagnosis.
However, the CDC cautioned that IgM antibodies are associated with false-positive results and stated that IgG antibodies are more reliable, but it may take from four to six weeks for the body to produce enough to be detected. Hence, while CDC figures show about 30,000 confirmed cases in the U.S. annually, this figure is hugely underestimated, as estimates suggest approximately 300,000 people in the country actually get Lyme disease every year, according to the agency.
Qiagen and DiaSorin explained that their QuantiFeron-Lyme test will enable detection when signs of a tick bite are visible but before the B cell response, which has the potential to provide much better sensitivity and specificity. The QuantiFeron-Lyme test will be used with DiaSorin's Liaison Borrelia IgG and IgM assays, risk assessment, and other medical and diagnostic evaluations, according to the companies.
Other new tests here or on the way
Given the inadequacy of standard testing and the demand for better methods, Lyme disease is an attractive market segment for Qiagen and other manufacturers of in vitro diagnostics, commented Bruce Carlson, publisher of Kalorama Information, a sister company of LabPulse.com. Several new tests have been approved or are in development:
Quidel has developed the Sofia Lyme fluorescent immunoassay (FIA), which it says offers rapid differential detection of human IgM from IgG antibodies to B. burgdorferi using serum and plasma specimens, with results in 10 minutes.
Bio-Rad's BioPlex 2200 Lyme total assay, designed for the rapid detection of multiple targets present in early stages of disease, received 510(k) clearance from the U.S. Food and Drug Administration (FDA) in April.
Bluejay Diagnostics is collaborating with the U.S. Navy on a point-of-care Lyme disease test.
A research team led by Columbia University's Mailman School of Public Health that includes scientists at the CDC and the U.S. National Institute of Allergy and Infectious Diseases is developing the Tick-Borne Disease Serochip (TBD Serochip), which is aimed at differentiating between B. burgdorferi and other tick-borne pathogens.
Researchers at New York Medical College and Colorado State University Hartshorn Health Center found that serum metabolites in urine are helpful for detecting early Lyme disease in a study with funding from the U.S. National Institutes of Health and published in Scientific Reports (Pegalajar-Jurado et al, August 15, 2018, Vol. 8:1, p. 12204).