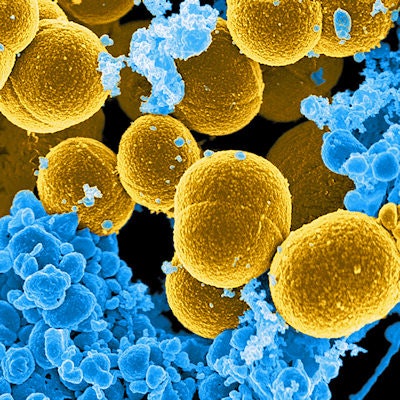 The T2Bacteria panel was accurate and fast for detecting five common kinds of bacteria in the blood in a multicenter study published May 13 in the Annals of Internal Medicine, but questions remain about its value in practice and how it would be incorporated into a hospital's workflow.
The prospective study of 1,427 patients in 11 centers tested the sensitivity, specificity, and speed of the T2Bacteria panel, which is an insert for T2 Biosystems' T2Dx miniaturized magnetic resonance instrument. The system directly tests blood for five types of bacteria ("ESKAPE pathogens") that cause bloodstream infections (BSI): Enterococcus faecium, Staphylococcus aureus, Klebsiella pneumoniae, Pseudomonas aeruginosa, and Escherichia coli.
Compared with conventional blood cultures as a reference, the panel's sensitivity and specificity for the bloodstream pathogens were both 90% and the negative predictive value was 100%, University of Pittsburgh infectious disease specialist Dr. Minh-Hong Nguyen and colleagues reported. Importantly, the panel was able to accurately identify or exclude the five pathogens in four to eight hours, whereas it took between 72 hours and five days to get blood culture results back.
"Overall, T2Bacteria results correlated well with those from blood cultures," Nguyen et al wrote. "T2Bacteria will most likely be useful if it is used in conjunction with blood and nonblood cultures and results are interpreted with careful consideration of patients' clinical status and antibiotic use."
Putting FDA-approved test to the test
The study was done as a means of validating the panel, which was approved by the U.S. Food and Drug Administration (FDA) based on evidence that it had "substantial equivalence" to T2 Biosystems' T2Candida panel, an insert for the T2Dx unit that tests for fungal infections.
The T2Bacteria panel is a direct-from-blood, nonculture test. In their article, Nguyen and colleagues noted that blood cultures are the gold standard for diagnosing bloodstream infections, but it takes a long time to get results. In addition, sensitivities range from 10% or less to 50% for suspected bacteremia, febrile neutropenia, severe sepsis, and septic shock.
"The inadequacies of blood cultures and the need for early treatment of [bloodstream infections] provide a rationale for empirical use of broad-spectrum antibiotics," they wrote.
For the study, the researchers took whole blood samples for analysis using the T2Dx unit and blood cultures for use as a comparator and reference. If a pathogen was detected with the five-bacteria panel and confirmed on the blood culture, the bloodstream infection was considered proven. Now that performance characteristics of two panels have been established in multicenter clinical trials, defining their roles in practice and the effect on patient outcomes is a top priority, the investigators wrote.
"We hope the promising performance and FDA clearance of these tests will encourage continued investment, research, and development in this area of pressing medical need," they wrote.
However, the authors also acknowledged limitations. The number of positive results was low at 3% for the blood cultures and 13% for the T2Bacteria test. Also, the T2Bacteria assay tests for only five bacterial species, and blood culture specimens must still be collected to identify bacteria not included in the panel and to yield organisms for phenotypic antibiotic susceptibility testing, they noted.
Editorial questions costs of new assay
An accompanying editorial in the Annals of Internal Medicine by laboratory professionals at the Atrium Health-Carolinas Medical Center in Charlotte, NC, accepted that the study shows high accuracy and reproducibility for the five targeted organisms. However, co-authors Dr. David Weinrib and Gerald Capraro, PhD, focused on what they see as many limitations of the T2Bacteria panel -- cost-effectiveness, in particular.
"In this era of increasing cost consciousness and 'lean operations,' clinicians and laboratories need to be good stewards of health care resources and make careful determinations of cost, utility, and benefit to the patient before adopting a new assay," Weinrib and Capraro wrote. "The T2Bacteria Panel targets only [five] clinically relevant bacteria, and whether this will significantly reduce costs or benefit patients with suspected BSI and sepsis has yet to be proved."
As with many other culture-independent blood tests, the T2Bacteria panel would be additive -- it would not replace conventional microbiological testing, Weinrib and Capraro noted. And hospitals that moved microbiological testing off campus would need to do the test onsite to take advantage of the shorter turnaround time for results.
It's unclear whether the test adds value to the management of patients with suspected bloodstream infections, the authors argued, pointing out that clinicians did not get the results in real-time. Clinical utility is "critically linked" to timely communication and coordination with a multidisciplinary antimicrobial stewardship program. Furthermore, they flagged a 40% false-positive rate in 146 specimens with negative blood cultures and positive T2Bacteria results, which could lead to the overuse of antibiotics. It is also unclear whether clinicians would opt against antibiotics based on negative results on the T2Bacteria test, they suggested.
The editorial authors also called for outcome studies to quantify the benefits of testing, such as the effect on survival, time to appropriate therapy, length of stay in the hospital, and the number of days on antibiotic therapy.
Expediting targeted treatment for antibiotic-resistant bloodstream infections is an important benefit, but the unit is expensive and hospitals can be slow to change treatment regimens and to see the benefits of this testing, commented Bruce Carlson, publisher of market research company Kalorama Information, a sister company of LabPulse.com. Also, traditional providers of equipment for sepsis testing, such as Becton Dickinson and bioMérieux, have added automated features to their blood culture systems to speed up results, he pointed out.
The T2Dx instrument costs $125,000 and the T2Bacteria panel costs $150 per test run, a rate that can be discounted with volume commitments. In its first-quarter earnings report on May 2, T2 Biosystems reported $1.8 million in sales, which was higher than what it had anticipated but down from $2.3 million reported in the same period of 2018. The company reported $10.5 million in sales for the full year of 2018, up by 123% from 2017. About 100 units are installed, and the company told LabPulse.com that it expects 70 to 80 new instrument placements this year.