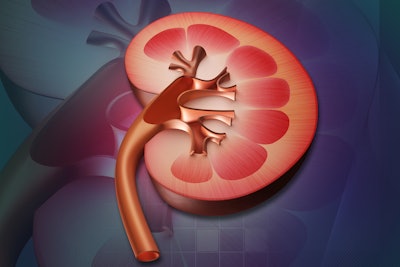 Renalytix on Monday said its fiscal year 2022 revenues doubled year over year to $3 million.
For the fiscal year ended June 30, the London-based developer of in vitro diagnostic tests booked $2.7 million for testing services.
Among the highlights for the year, the company obtained reimbursement status for its KidneyIntelX test based on Medicare clinical lab fee schedule pricing of $950 per test.
KidneyIntelX uses a machine-learning enabled algorithm to process predictive blood biomarkers with key features from a patient's health record to generate an early kidney health risk score. The score identifies those patients at the most risk for kidney disease progression and/or failure and further guides ongoing clinical decisions.
In all, 33 state Medicaid programs are now under contract, the firm said.
Renalytix added that it has executed 28 private insurance and network provider contracts to date including with a private payer in Illinois that has 8.1 million members, and a large independent provider network in the tristate North Carolina, South Carolina, and Virginia area with more than 100,000 healthcare providers in-network.
The company said it continues to generate data and analysis reinforcing the benefits of KidneyIntelX as part of the U.S. Food and Drug Administration de novo process. The data support a breakthrough in risk stratification for patients with diabetic kidney disease using the KidneyIntelX test, the firm said.
Renalytix posted a net loss for the year of $56.7 million, or a loss of $.78 per share, compared with a loss of $31.0 million, or a loss of $.43 per share, in 2021.
At the end of June, Renalytix had cash and cash equivalents of $41.3 million.
Renalytix shares were up more than 13% to $195 in Monday morning trading on the Nasdaq.