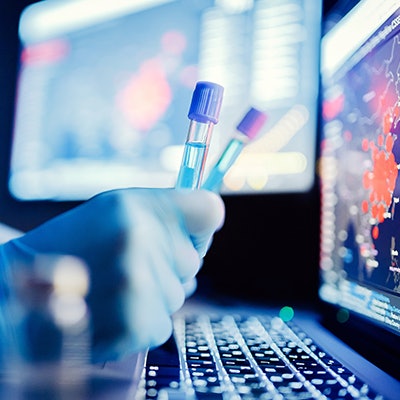 The future is bright for rapid testing of infectious diseases, but the COVID-19 pandemic has raised a number of challenges that must be addressed, according to speakers at a December 15 session of the American Association for Clinical Chemistry (AACC) virtual meeting.
The COVID-19 pandemic has changed the rapid testing landscape, according to Nikolina Babic, PhD, of the department of pathology and laboratory medicine at the Medical University of South Carolina in Charleston.
"The presence of the COVID-19 infection is changing the testing patterns and patient management of influenza patients now that we have entered the flu season," Babic said.
COVID-19 is complicating routine influenza testing, according to Babic, based on the many common symptoms that both COVID-19 and the flu share, including fever, chills, coughing, shortness of breath or difficulty breathing, fatigue, sore throat, muscle aches, headache, and nausea. So the ability to rapidly perform accurate diagnostic testing to differentiate between the two conditions is extremely important.
In recent years, there have been significant shifts in healthcare delivery models, from hospital and ambulatory-centric enterprises to the continuum of care provided by integrated healthcare networks, Babic said.
"Here the focus is patient-centric," with the main medical center serving as a hub and smaller regional hospitals and clinics integrated into this model, enabling all facilities to offer a full range of extended care services, she added.
Given the size and geographical area that this care delivery model usually covers, point-of-care (POC) devices play an important role in enabling patient access to care, especially when it involves infectious disease testing, and notably testing for influenza or COVID-19.
"Traditionally, clinic-based rapid testing was mostly focused at the end of the flu season. But now, the ability to diagnose disease early and differentiate between influenza and COVID-19 is essential," Babic added.
But given a number of unknowns, it is difficult to predict anticipated testing volumes and plan for appropriate placement of POC devices within communities and for appropriate reagent distribution, according to Babic. She explained that hospitals and health systems are having to rethink and reconfigure the deployment of rapid testing devices to meet an increased demand for testing in integrated healthcare delivery systems.
POC infectious disease testing has become an important component of integrated healthcare delivery systems, which have become more patient-focused, by providing immediate access to care and enabling timely patient management, said Babic. Moreover, the testing can improve the quality of care by helping caregivers make clinical decisions in a timely manner.
But it is important to select and implement the type of test best suited to a clinical practice and the patient population it serves, she noted.
For example, a rapid POC test can be helpful when an emergency room patient is being considered for admission or discharge, or when a stroke patient is under consideration for a thrombectomy procedure. A patient's COVID-19 status, diagnosed by a rapid POC test, can help physicians determine whether intubation can be performed, and under what conditions, such as in a negative pressure room.
In the current environment, there is a need for highly sensitive and specific rapid molecular POC tests in a variety of care-giving locations beyond small and large hospitals, such as urgent care centers, family medicine clinics, and physician offices, college campuses, and nursing homes, Babic stated. But molecular tests are not always available. In addition, having enough reagents and other supplies on hand is an ongoing challenge for clinical laboratories that are tasked with getting test results as quickly as possible.
Babic also expected that current clinical testing needs caused by COVID-19 will help create a shift from antigen-based rapid influenza diagnostic tests to robust and rapid integrated respiratory panel molecular testing in outpatient clinics in cases of serious or life-threatening illness. Additional testing also will become more of a necessity for asymptomatic populations on college campuses and in nursing homes.