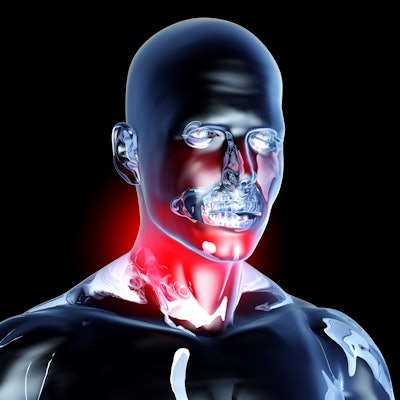 Molecular diagnostics firm Naveris is highlighting research published online February 5 in the Journal of Clinical Oncology that demonstrates the efficacy of the company's NavDx blood test for detecting recurrent head and neck cancers associated with HPV.
The test is designed to identify tumor-modified viral HPV DNA. The prospective study, conducted by lead author Dr. Bhisham Chera of the University of North Carolina School of Medicine and colleagues, included 115 patients treated for HPV-related head and neck cancers who were tracked for recurrence for up to 3.5 years with imaging and fiber-optic nasopharyngeal endoscopy. The patients had the blood test before and during treatment and at post-treatment follow-up visits.
The blood test had a sensitivity of 100%, with all patients who eventually developed a recurrence demonstrating positive results. No patients with a negative blood test developed a recurrence, for a negative predictive value of 100%. The researchers also found the following:
Of the patients with two consecutive positive blood tests, all but one developed a biopsy-proven recurrence (positive predictive value of 94%).
A positive blood test preceded the detection of recurrence by imaging for 91% of patients, with a median lead time of 3.9 months.
The study is timely, as the incidence of HPV-related head and neck cancer has increased dramatically in recent years; it is now the most prevalent HPV-related cancer in the U.S., surpassing cervical cancer, Naveris noted.