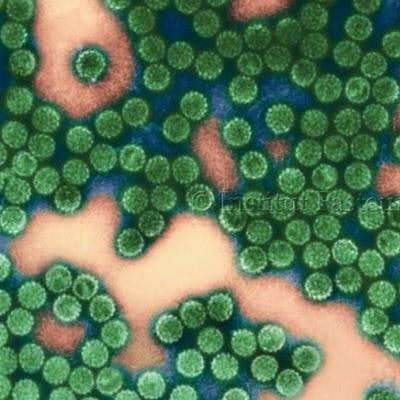 A new test shows promise for second-line use in patients with a positive HPV result to reduce the number of unnecessary colposcopies and as a two-in-one test for virus typing with triage capabilities, according to a small proof-of-concept study by French researchers in the September issue of the Journal of Molecular Diagnostics.
The test combines multiplexed reverse transcription polymerase chain reaction (RT-PCR) technology for measuring RNA and next-generation sequencing for detecting high-risk strains of HPV. It was developed using Thermo Fisher Scientific's Ion AmpliSeq multiplexed PCR technology; the prototype study was funded by the Institut Pasteur in Paris.
Investigators found that the test -- tentatively dubbed HPV RNA-Seq -- had a sensitivity of 97.3% and negative predictive value of 93.8% for detecting HPV in a study of samples from 55 patients, of which 28 were low-grade and 27 were high-grade squamous intraepithelial lesions. Senior author Marc Eloit, PhD, of the Pathogen Discovery Laboratory at the Institut Pasteur, and colleagues reported the findings (J Mol Diagn, September 2019, Vol. 21:5, pp. 768-781).
Results for detecting and identifying the type of HPV were similar to what has been reported for the CE-Marked PapilloCheck HPV DNA test kit (Greiner Bio-One); in a comparison, the area under the curve was greater than 0.95, according to the researchers.
"HPV RNA-Seq will be further developed and validated as a companion test in HPV DNA-positive patients or when the result of cytology is uncertain, to allow focusing the colposcopies to the most relevant patients," Eloit and colleagues wrote.
Cervical cancer screening has limitations
The researchers developed the test to fill unmet needs in the screening and follow-up of high-risk HPV infection, which is the cause of most cervical cancers.
In many countries, cervical cancer screening still revolves around the traditionally used Pap cytology test, and it does not include molecular virology assays because of the low positive predictive value of currently available tests, the authors noted. Research suggests that only about one-third of women who get a colposcopy after HPV DNA screening actually have high-grade squamous intraepithelial lesions, so there is room to improve the benefit/risk ratio of biopsies, they wrote.
"Indeed, because most of the molecular diagnostic methods rely on the detection of HPV genome (DNA) and do not address the patterns of viral expression (RNA), they remain weak predictors of the evolution from low-grade squamous intraepithelial lesion (LSIL) to high-grade squamous intraepithelial lesion (HSIL) of the cervix," the authors wrote.
High-risk HPV can result in low-grade lesions that will go away on their own, but it's the high-risk persistent infections that cause high-grade lesions that can go on to become cancers, they pointed out. HPV DNA tests are increasingly being used for screening, but while they have high sensitivity, the positive predictive value for detecting high-grade lesions is low.
HPV RNA tests are also liable to detect high-risk HPV that is transient, Eliot et al noted.
"There is no consensus that HPV RNA tests have a better diagnostic accuracy compared with HPV DNA tests and cytology for the detection of cervical precancerous lesions," they wrote. "There is, therefore, a need for a novel generation of molecular diagnostic tests that not only can detect HPV infection, but also have the ability to accurately predict precancerous stages to offer a better and cost-saving medical benefit."
Defining roles for new assay
The test described in the Journal of Molecular Diagnostics was designed to reflect the biology of the HPV virus and the evolution of cervical lesions, the authors suggested.
"We took advantage of next-generation sequencing technologies that now make it possible to study populations of transcripts as a whole, instead of focusing only on one or two specific mRNAs, as done with former techniques, such as quantitative RT-PCR used in HPV RNA tests," they explained.
In addition to helping determine which women should go on to get a colposcopy, the assay could also play a role in assessing atypical squamous cells of undetermined significance, according to the group.
The researchers see the test as well positioned for second-line use in HPV-positive patients to reduce unnecessary colposcopies and as an option that combines HPV typing and patient triage. But they have bigger ambitions in the long term.
"The ultimate goal is to replace the current combination of cytology (Papanicolaou smear) and HPV molecular screening by a single molecular test for both the detection of high-risk or putative high-risk HPV and the triage of women at risk of transforming infection, before colposcopy," the authors wrote.
The test should also be affordable, according to Eliot and colleagues. For decentralized labs, it would cost about $200, excluding expenses for personnel and equipment; however, in a centralized lab using production scale sequencers, the cost could come down to $10 or $20, they believe.
The researchers plan to develop a format of the test optimized for routine testing and conduct a performance study in a larger cohort of patients, and they are discussing options for partnering and commercialization with IVD companies.