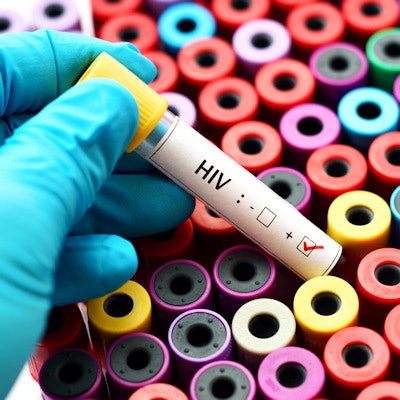 Thermo Fisher Scientific on Monday announced the launch of its Applied Biosystems HIV-1 Genotyping Kit with Integrase. The research-use-only (RUO) assay examines positive samples of human immunodeficiency virus (HIV) to identify genetic variants that resist common antiretroviral therapeutics.
Specifically, the assay analyses HIV RNA extracted from ethylenediaminetetraacetic acid (EDTA) plasma or dried blood spots to measure genomic mutations in the protease, reverse transcriptase, and integrase regions of the pol gene.
Data from these tests is intended to help inform global epidemiologic and genetic surveillance studies to track the ongoing evolution of the virus, Thermo Fisher said.
"A key factor in identifying new public health treatment strategies is knowledge of the viral resistance genotypes present in a given population as indicated by mutations measured in that population," Dr. Manoj Gandhi, senior medical director of genetic testing solutions at Thermo Fisher Scientific, said in a statement. "Monitoring for treatment-resistant strains of HIV can improve global understanding of HIV and help keep the world's public health officials one step ahead of future developments."