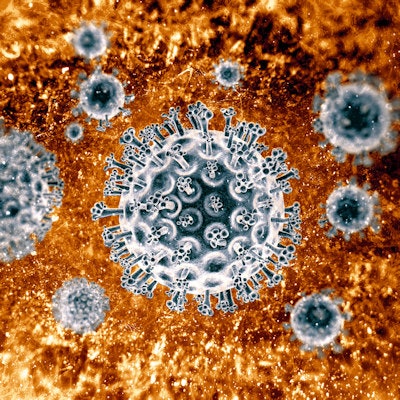 The U.S. Preventive Services Task Force (USPSTF) has vastly expanded its stance on screening for hepatitis C to include all adults -- not just baby boomers and those at high risk -- in a draft recommendation statement published on August 27.
The USPSTF gave a B recommendation stating that all adults between the ages of 18 and 79 should undergo screening. Furthermore, the task force advised that screening should be considered for people younger than 18 and older than 79 who are at high risk of infection. The B recommendation means there is high certainty that the net benefit of hepatitis C screening is moderate.
The draft recommendation and draft evidence review are open for public comment through September 23.
In its statement, the USPSTF highlighted the high accuracy of testing for hepatitis C virus (HCV) and the availability of blood tests and elastography for assessing whether there is fibrosis.
"Screening with anti-HCV antibody testing followed by polymerase chain reaction testing for HCV RNA is accurate for identifying patients with chronic HCV infection," the task force advised. "Currently, diagnostic evaluations are often performed with various noninvasive tests as possible alternatives to liver biopsy for diagnosing fibrosis stage or cirrhosis to reduce overall harms in persons who screen positive."
Most people just need to be screened once, but those who are at continued risk should be screened periodically.
Sea change in hepatitis C
The latest iteration of recommendations on hepatitis C screening reflects a marked change from the last version in 2013, which advised one-time screening for people between the ages of 45 and 65, as well as screening for those at high risk for infection. The shift in guidance on screening reflects a number of factors, including a rising infection rate, an increase in the number of younger people getting hepatitis C, and a sea change in treatment options in recent years.
About 4 million people in the U.S. are currently infected with HCV or have been infected in the past. The USPSTF noted that the incidence of hepatitis C rose 3.5-fold between 2010 and 2016, with people younger than 40 hit the hardest. People who inject drugs have the highest risk for hepatitis C, as the disease is passed through exposure to infected blood. It's estimated that one-third of people between the ages of 18 and 30 who inject drugs have the virus.
Dr. Douglas Owens, chair of the task force, commented in an interview that in the past, the focus was on baby boomers and there were concerns about exposure through blood infusions. But today, hepatitis C is prevalent in a broader range of adults.
"Unfortunately, the opioid epidemic has led to a dramatic increase in hepatitis C, and much of that increase in hepatitis C is in younger people," said Owens, who is a general internist and investigator at the Center for Innovation to Implementation at the Veterans Affairs Palo Alto Health Care System. "Essentially, the epidemiology of hepatitis C has changed over the last five to 10 years."
Furthermore, treatments for hepatitis C are far more effective and better tolerated than they were in the past, and for most people they offer a cure, he said. At the time of the last review, the standard treatment was interferon therapy, which was associated with a sustained virologic response (SVR) rate of 68% to 78%. Nowadays, with the availability of all-oral direct-acting antiviral regimens, the SVR rate ranges from 95.5% to 98.9% with good tolerability.
"Whereas antiviral therapy was previously reserved for patients with more advanced fibrosis, the American Association for the Study of Liver Diseases (AASLD) and the Infectious Diseases Society of America (IDSA) now recommend treatment for all patients with chronic HCV, except those with short life expectancies that cannot be remediated by treating HCV, by transplantation, or by other directed therapy," the task force noted in its evidence review.
Addressing the cost barrier
Physicians' practices and payor decisions are evolving, and the recommendations do not mean that everyone will now be screened; however, they may mean that testing will become more common as part of a physical exam, commented Bruce Carlson, publisher of market research firm Kalorama Information, a sister company of LabPulse.com. To some extent, the IVD industry has anticipated this change, but the official news will be welcome to test manufacturers, he said.
Cost has been a barrier to hepatitis C treatment in the past. The task force does not consider costs when making its clinical recommendations, though it cited some studies suggesting that screening is cost-effective. Costs have been coming down with greater competition and price negotiation, and they are expected to decline more, "which would further enhance the cost-effectiveness of expanded screening strategies," the USPSTF wrote in its evidence review.
Effect on other organizations?
The USPSTF acknowledged that the draft recommendation statement differs from screening guidelines from a range of other organizations. The following organizations' guidelines are more in line with the task force's prior advice to screen people born between 1945 and 1965 and those who are at higher risk for hepatis C:
U.S. Centers for Disease Control and Prevention
American Association for the Study of Liver Diseases
Infectious Diseases Society of America
European Association for the Study of the Liver
World Health Organization
Canadian Association for the Study of the Liver
Will other organizations follow suit? Owens told LabPulse.com that there is broad recognition that hepatitis C has changed over the past five to 10 years.
"We can't say what other organizations will do," he said. "We will have to wait and see."