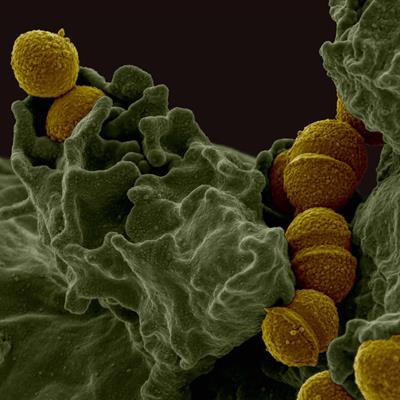 A study of group A Streptococcus (GAS) and life-threatening female genital tract infections in nonhuman primates sheds light on the genetic nature of these conditions, with potential application for drug development, researchers reported in the American Journal of Pathology.
Group A strep is typically found in the mouth, but it can also infect other mucosal areas of the body, with deadly results. The researchers noted that GAS surface proteins cause an estimated 700 million human infections annually around the world, including 15 million in the U.S. GAS is at the root of puerperal sepsis (also known as childbed fever), which is the leading cause of maternal deaths, and it causes necrotizing myometritis (inflammation of the uterine myometrium) as well as severe infections in newborns.
"Although rare, puerperal sepsis and neonatal infections have high morbidity and mortality rates," Dr. James Musser, PhD, chair of the department of pathology and genomic medicine at Houston Methodist Hospital, and colleagues wrote in the article, which is slated to run in the journal's April issue (Am J Pathol, Vol. 190, pp. 862-873).
The authors described necrotizing myometritis as a "devastating disease," associated with very high morbidity and mortality rates.
No vaccine is commercially available for GAS; one challenge for development in the field has been experimental mouse models, which have limited use for conditions affecting the human reproductive tract due to anatomic and immunologic differences. Instead, Musser and colleagues developed nonhuman primate models, noting that the genital tract of these animals is "anatomically and microbiologically very similar to humans."
Through genome-wide screening, the research team identified a common set of 39 genes required for GAS vaginal mucosa colonization and uterine wall infection. Genes encoding two bacterial surface proteins -- surface exclusion protein (SpyAD) and immunogenic secreted protein 2 (Isp2) -- are crucial for GAS vaginal colonization, myometrium infection, and necrotizing myositis, the authors noted.
"Our findings may lead to better ways to treat female GAS genital tract infections," Musser and colleagues wrote.
Furthermore, the primate models described in the study also could be useful for other types of genital tract infections, such as group B Streptococcus, the authors suggested.