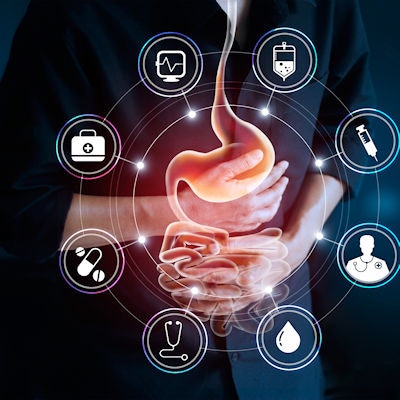 Viral shedding from SARS-CoV-2 is being reported in stool samples, underscoring the need for better monitoring, including more testing, according to a meta-analysis and systematic review of studies published online June 10 in JAMA Network Open.
COVID-19 is commonly seen as a respiratory disease and much of the focus for diagnosis and also discharge of patients from hospitals following recovery has understandably been on the status of respiratory specimens. But gastrointestinal symptoms are also part of the disease and deserve more attention to help "prevent further spread of this highly contagious pathogen," wrote Dr. Sravanthi Parasa, a gastroenterologist at Swedish Medical Center in Seattle, and colleagues.
The study in JAMA Netw Open was a meta-analysis and systematic review of studies that included SARS-CoV-2 patients with gastrointestinal symptoms reported between November 1, 2019, and March 31, 2020. Where available, liver enzyme levels and reverse transcription polymerase chain reaction (RT-PCR) tests results were analyzed.
The analysis mainly included single-arm observational studies from mainland China -- 21 published studies and eight preprint studies, with a total of 4,805 COVID-19-positive individuals. Viral RNA shedding was detected in stool specimens of 40.5% of patients with confirmed infection based on nasopharyngeal samples, they reported. The investigators also reported diarrhea in 7.4% and nausea or vomiting in 4.6%.
The review showed that from 30% to 50% of COVID-positive patients may have positive fecal swab samples, which confirms that transmission is possible in other ways apart from respiratory droplets, the authors concluded. The presence of live virus in stool and data showing fecal shedding continuing for days after hospitalization is "particularly concerning," they wrote.
"These findings suggest that patients with SARS-CoV-2 infection can present with gastrointestinal symptoms with possible fecal-oral route of transmission due to the presence of viral RNA in stool," Parasa et al wrote.
"Our results also suggest that testing of the virus in feces by real-time RT-PCR could be helpful in disease monitoring and surveillance," they suggested.
Pooled rates, meta-analysis key findings
RNA viral shedding in fecal specimens, SARS-CoV-2 positive patients
40.5%
Elevated aspartate aminotransferase (AAT)
20%
Elevated alanine aminotransferase (ALT)
14.6%
Diarrhea
7.4%
Nausea or vomiting
4.6%
Source: Parasa et al, JAMA Netw Open.
The incidence of gastrointestinal symptoms, which may have actually been underreported in the studies, may mean a worse outcome for COVID-19 patients. Available data suggest that patients without gastrointestinal symptoms are more likely to recover compared with those who did have them, the authors noted.
Fecal-oral transmission could explain some of the nosocomial infections that have been reported, investigators believe.
"To reduce healthcare-associated infections, clinicians should take extra precautions when a patient reports diarrhea," the authors suggested.
Whether the detection of the virus in stool translates to fecal transmission is hard to say at the moment, Parasa commented by email to LabPulse.com. This will depend on the concentration of the virus and viability of it in stool, which could vary on an individual basis. There are still many unknowns and as we are opening economies and shared workplaces, it is very important from a public health standpoint to be vigilant and to maintain strict hygiene, she said.