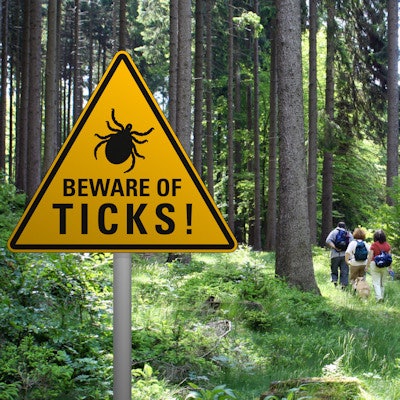 Lyme disease specialist IGeneX has reported high sensitivity with a low risk for false positives in a study of its new immunoblot test for tick-borne relapsing fever (TBRF).
Tick-borne relapsing fever and Lyme disease (LD) are caused by two related Borrelia bacteria groups, each of which includes more than 20 species.
IGeneX's immunoblot test, which was introduced commercially about a year ago, incorporates recombinant proteins from different relapsing fever species. Results from a study of the test that included people who were positive or negative for relapsing fever were detailed by Jyotsna Shah, PhD, president and laboratory director of IGeneX, and colleagues in the journal Healthcare on October 21.
Tick-borne relapsing fever test: Key findings
Sensitivity
70.5%
Specificity
99.5%
Positive predictive value
97.3%
Negative predictive value
93.4%
Patients can have both tick-borne relapsing fever and Lyme disease, and some symptoms are similar, which presents a challenge for diagnosis, the authors noted. However, this test can differentiate the immune responses for these conditions, they believe.
"LD and TBRF differ clinically in that relapses of fever are more common in TBRF while an erythema migrans rash associated with an infected tick bite is more common in LD," Shah and colleagues wrote.
The immunoblot test will be useful for laboratory confirmation of relapsing fever and also for understanding its epidemiology worldwide, the authors wrote.
Lyme disease is an area of great interest -- especially to the public -- and many IVD vendors are in the market and developing new tests, commented Bruce Carlson, publisher of Kalorama Information, a sister site of LabPulse.com.
"News of the development of a test for tick-borne relapsing fever is welcome, especially for campers and those who live in Western states where tick-borne relapsing fever is more common, as the disease is often spread by squirrels and rodents who get into untreated cabins and homes in mountains," Carlson said.