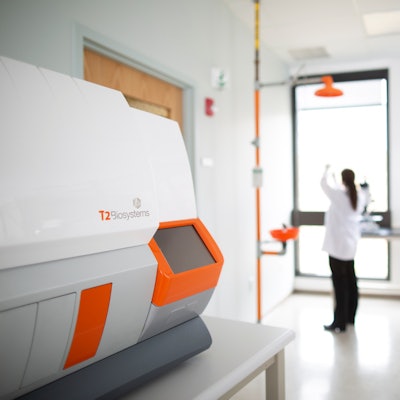 T2 Biosystems has named John Sperzel as its new president and CEO. Sperzel most recently served as president and CEO of infectious disease point-of-care diagnostics company Chembio Diagnostics.
In the statement about the appointment, T2 noted that during his tenure at Chembio, Sperzel established U.S. and international sales teams that generated significant growth, and the company also made commercial investments in Latin America and Southeast Asia. Sperzel is replacing John McDonough, who will continue to serve as nonexecutive chairman of the board.
T2 Biosystems has developed a range of tests built upon its proprietary T2 magnetic resonance (T2MR) platform, including the T2Bacteria sepsis panel, which received a new technology add-on payment (NTAP) from the U.S. Centers for Medicare and Medicaid Services (CMS) in August 2019. Soon after, in September, the company received a contract from the U.S. Biomedical Advanced Research and Development Authority that it said would accelerate development and registrational pursuits for a range of tests, including a comprehensive panel for detecting bloodborne bacterial infections.
In its own statement, Chembio announced that Sperzel had resigned and that Gail Page, who serves on the company's board of directors, has been appointed as interim CEO while Chembio searches for a permanent replacement.