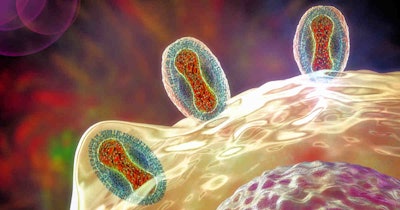 Researchers at Northwestern University and its spinoff company Minute Molecular Diagnostics have developed a working prototype of a PCR monkeypox test.
The test uses the Dash Analyzer, a portable, compact system previously developed for the team's COVID-19 test, which can provide easy-to-read results in 15 minutes, according to the developer.
The team's COVID-19 test received an emergency use authorization (EUA) from the U.S. Food and Drug Administration (FDA).
It is now collaborating on developing the swab-based monkeypox test, which will then undergo clinical testing led by infectious disease specialists at Northwestern University Feinberg School of Medicine.
Currently, monkeypox testing generally requires that providers send samples to a central laboratory facility to be run in large batches; this process can take several hours to provide results.
"To help control the spread of this contagious infection, the development of rapid diagnostic testing is essential," Northwestern's David Kelso, who is also cofounder, president, and CEO of Minute Molecular, said in a statement. "DASH provides central laboratory-quality results at the point of care."
Minute Molecular Diagnostics is currently developing similar tests for influenza, HIV, hepatitis C, methicillin-resistant Staphylococcus aureus (MRSA), C. difficile, and sexually transmitted infections. Furthermore, the system can also quantitatively report viral loads of HIV and hepatitis C, according to its developers.