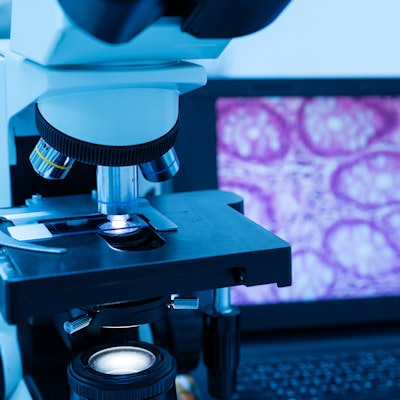 Roche on Thursday said its diagnostics division revenues for the first half of 2022 rose to 9.95 billion Swiss francs (CHF) ($10.26 billion), up 10% from CHF 9.04 billion for the first half of 2021.
The firm posted core laboratory revenues of CHF 3.88 billion, up 3% year-over-year from CHF 3.77 billion; point-of-care revenues of CHF 2.61 billion, up 45% year-over-year from CHF 1.80 billion; molecular laboratory revenues of CHF 1.98 billion, down 1% year-over-year from CHF 1.99 billion; diabetes care revenues for CHF 832 million, down 7% year-over-year from CHF 894 million; and pathology laboratory revenues of CHF 652 million, up 11% year-over-year from CHF 590 million.
"We achieved good results in the first half of the year, thanks to the continued strong demand for our diagnostics base business and our new medicines to treat hemophilia, cancer, and neurological disorders," Roche CEO Severin Schwan said in a statement.
Among the highlights for its diagnostics division in the first half of 2022, Roche said that with its subsidiary TIB Molbiol, it swiftly developed three PCR LightMix Modular Virus test kits that detect the monkeypox virus and aid in tracking its epidemiologic spread.
Roche received U.S. Food and Drug Administration (FDA) Emergency Use Authorization (EUA) for its Cobas SARS-CoV-2 Duo PCR test to detect the COVID-19 virus and simultaneously measure the viral load in an individual. In June, Roche launched a self-sampling solution for the Cobas HPV test in countries accepting the CE Mark.
Also in June, Roche announced the CE launch of the Ventana DP 600, a high-capacity slide scanner that produces high-resolution digital images of stained tissue samples that help diagnose cancer.
Among other highlights for the first half of 2022, the diagnostics division launched the BenchMark Ultra Plus, an advanced tissue-staining platform and the Elecsys HCV Duo, a diagnostic test for the simultaneous and independent determination of the hepatitis C virus (HCV) antigen and antibody status.
Looking ahead, the firm said it expects that demand for its COVID-19 tests will decline in the second half of the year.