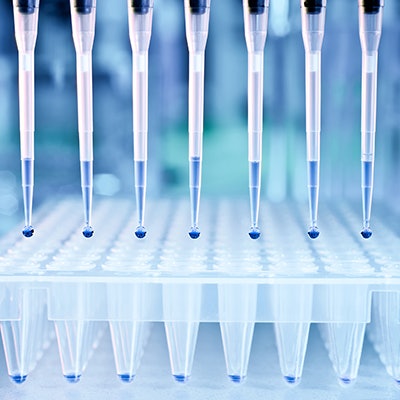 Laboratory tool companies have been among the biggest beneficiaries of U.S. government COVID-19-related spending on coronavirus testing and vaccine R&D and manufacturing. COVID-19-related sales have propelled sales at Thermo Fisher Scientific, Danaher, and PerkinElmer, already three of the world's largest scientific instrument and reagent providers.
Thermo Fisher Scientific
Thermo Fisher Scientific is the largest supplier of laboratory tools globally. It has also built a substantial business providing drug manufacturing equipment and consumables. The company's wide-ranging services business encompasses contract research and contract development for the biopharma industry. Themo Fisher Scientific's COVID-19 offerings have been led by polymerase chain reaction (PCR) tests and instrumentation, sample preparation equipment, research instruments, and manufacturing tools and services for COVID-19 vaccines.
Its 2021 COVID response sales are expected to be better than 2021. The company's latest forecast, announced in October prior to the detection of the omicron variant, estimates total COVID-19 response revenues of $7.7 billion, which would surpass 2020's $6.6 billion figure. This would represent 18% of the company's forecasted total 2021 revenues.
The bulk of Thermo Fisher Scientific's 2021 COVID-19 response revenue is anticipated to come from clinical and diagnostic tests, which should contribute $5.8 million. However, vaccine and therapy revenues, encompassing manufacturing product and service offerings, are projected to grow faster, rising from $500 million in 2020 to $1.9 billion in 2021. The ramp-up in worldwide vaccination rates and the introduction of booster shots, as well as increased capacity at Thermo Fisher Scientific facilities, have accelerated sales of solutions for vaccine and therapy production.
Thermo Fisher Scientific's COVID-19-related 2021 contracts with the U.S. federal government include the National Institutes of Health's $4.6 million commitment with the firm to buy "various medical supplies to support COVID-19 testing," according to ProPublica.
Also contributing to future sales, in September of this year, the company secured an investment from the U.S. Department of Health and Human Services to help build a new pipette-tip manufacturing facility. Pipette tips are among the lab supplies that have suffered shortages due to demand related to COVID-19 testing. The facility is part of the company's substantial investments to improve its manufacturing capacity, with the aim of supporting both COVID-19- and non-COVID-19-related demand.
Earlier this year, the company announced a $600 million investment in its capacity to produce bioprocessing equipment and consumables.
Danaher
Danaher owns several businesses providing products in response to COVID-19. On the clinical and diagnostic testing side, the company's Cepheid business is the primary provider, supplying both laboratory and point-of-care PCR tests.
During 2021, Cepheid steadily ramped up shipments of respiratory test cartridges, a product line which includes COVID-19 test cartridges (both COVID-19-only tests and four-in-one [COVID-19, flu A, flu B, and respiratory syncytial virus] tests), increasing its production from 10 million in the first quarter to approximately 14 million test cartridges in the second quarter and 16 million in the third quarter. The increase is related to the growing installed base of instruments and the arrival of the flu season, in addition to continuing COVID-19 testing demands.
Among the 2021 Cepheid testing contracts compiled by ProPublica is a $33.2 million commitment by the U.S. Department of Veterans Affairs to purchase in vitro diagnostic substances, reagents, and test kits. As the contract has not been fulfilled, it is unlikely to be recorded in the company's 2021 revenues.
Danaher's Cytiva and Pall businesses are major supplies of tools for COVID-19 vaccine and therapy development and manufacturing. Danaher announced over $1 billion of COVID-19-related vaccine and therapy revenues in the first half 2021 and a total of more than $1.5 billion in the first nine months of the year.
For the year as a whole, these revenues are expected to total about $2 billion compared to over $600 million in 2020. Like Thermo Fisher Scientific, vaccine manufacturing revenues are anticipated to outpace the growth of COVID-19 testing revenues for Danaher in 2021. But this forecast was made prior to the discovery of the omicron variant, which may boost year-end demand for both testing and vaccines.
The U.S. government has contributed to Cytiva's future sales by contracting with the company to scale its COVID-19 manufacturing capacity. The company and the Biomedical Advanced Research and Development Authority announced in the fall of 2020 a $31 million technology investment to grow capacity for the manufacturing of consumables and hardware.
As for internal spending that will enhance the availability of both COVID-19-related and non-COVID-19-related solutions, this summer, Cytiva and Pall laid out $1.5 billion in investments to expand their bioprocessing supply capacity. The investment is part of Danaher's increased capital expenditures to meet supply constraints for both tests and manufacturing products.
PerkinElmer
PerkinElmer -- via several businesses -- is a significant supplier of COVID-19 tests, instruments, and services, as well as vaccine R&D equipment. Its Euroimmun business supplies clinical and diagnostic tests, including PCR, antigen, and serological tests. PerkinElmer Health Sciences provides testing services, including PCR testing, while its life science instruments and consumables division provides sample preparation solutions, automation equipment, and analytical instruments for COVID-19 R&D.
In 2021, PerkinElmer expects to record $1.4 billion in COVID-19-related revenues, which accounts for 29% of company annual revenues and is an increase from $1.05 billion compared to last year. However, as of October, when the firm provided its latest sales forecasts, PerkinElmer only expected $200 million in COVID-19-related revenue in the fourth quarter, in line with decreasing COVID-19-related sales as the year progressed. Third-quarter sales declined to $300 million, down from $365 million in the second quarter and $550 million in the first quarter. However, fourth-quarter test sales are likely to be greater than expected due to new demand related to omicron.
Next year's revenues for PerkinElmer's COVID-19-related offerings could be helped by new government contracts. Earlier this year, PerkinElmer Health Sciences was one of three recipients of $650 million in U.S. Department of Defense (DOD) contracts to provide COVID-19 testing services in the U.S. Midwest.
For more information on the laboratory tools market, visit instrumentbusinessoutlook.com and strategic-directions.com.