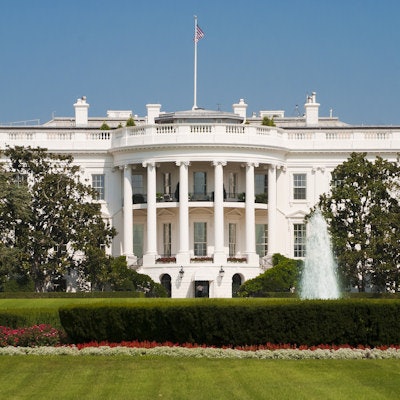 Not even a week after the U.S. declared omicron a variant of concern, President Joe Biden on December 2 laid out the administration's winter plan for tackling the variant. One takeaway: In the upcoming months, at-home COVID-19 testing should become more accessible, convenient, and free (at least for some insured Americans).
Delivering remarks from Walter Reed National Military Medical Center in Bethesda, MD, Biden spoke on a number of issues ranging from vaccines to tests. He made several announcements on new COVID-19 testing measures and stressed that testing will be made accessible in both cost and availability to everyone in the U.S.
"The bottom line this winter, you'll be able to test for free in the comfort of your home and have some peace of mind," the president said.
The administration will make free, at-home tests more available "than ever before," Biden said. This will be done by requiring health insurance providers to cover the cost of at-home testing.
"If you're one of the 150 million Americans with private health insurance, next month your plan will cover at-home tests," Biden said.
For those not covered by private insurance, Biden said that free testing kits will be made available at convenient locations.
"We're going to make available free tests at thousands of convenient locations ... folks to pick them up and take a test kit home," Biden said. "This is on top of the 20,000 sites already around the country like pharmacies, where you can go in and get tested for free."
The president also outlined changes to federal COVID-19 testing policy for international travelers. To stop the spread of the virus and give scientists time to study the new variant, the new rule requires international travelers to show a negative COVID-19 test within 24 hours of flight departure.
"I'm announcing ... that all inbound international travelers must test within one day of departure, regardless of their vaccination status or nationality," the president said. "This type of testing timetable provides an added degree of protection as scientists continue to study the omicron variant."
Previously, there was a three-day mandatory testing requirement for international travelers.
In addition, to ensure that schools remain open throughout the winter months, Biden also addressed "test-to-stay" policies, a novel approach to keeping students learning in schools that is being investigated by the U.S. Centers for Disease Control and Prevention (CDC).
Test-to-stay policies allow students to stay in the classroom and be tested frequently, as opposed to being sent home to quarantine, even after coming into contact with a student from the same classroom who had a positive test.
"Rather than being sent home and quarantine, they would be able to stay ... tests will be available and regularly," the president said. "The CDC will be releasing the latest science and other findings in the coming weeks so that other schools can learn from -- and if there's any impediments in this practice -- they can learn to implement exactly ... the best way to do this process."
However, the president noted that COVID-19 testing can only do so much to protect children from the virus.
"The best step is to vaccinate your children -- get them vaccinated," he stressed.
So far, two cases of the omicron variant have been confirmed in the U.S.: one in California and the other in Minnesota. The president also addressed other measures to fight the variant, including the following:
Ensuring unvaccinated persons in the U.S. receive a vaccine
Providing boosters to further protect the vaccinated
Supporting communities that experience a rise in cases in the upcoming months and improving care for those who get ill with COVID-19
Finally, Biden noted that it is imperative to provide vaccines to those outside the U.S. He said that the U.S. continues to lead the world in shipping free vaccines to the global community and that the country will continue to do so while accelerating the process.
"Vaccinating the world is not just a ... moral obligation that we have ... it's how we protect Americans, as we're seeing with this new variant," he said.