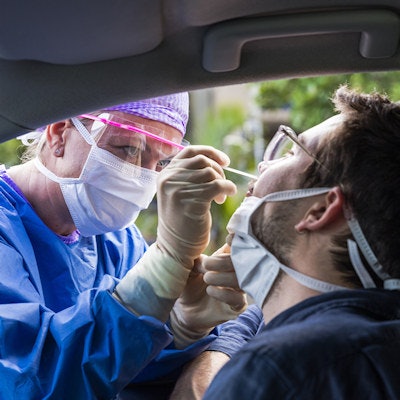 Researchers from the University of Pennsylvania School of Medicine have developed a low-cost, rapid diagnostic test for COVID-19, according to a May 6 study in Matter. The test, named Rapid, is 90% accurate and provides COVID-19 results within four minutes, according to the researchers.
Having low-cost COVID-19 tests that are quick and easy to read extends testing not only to people who can afford it but to remote or disadvantaged areas, according to the researchers.
Most available methods for COVID-19 testing use reverse transcription polymerase chain reaction (RT-PCR) to detect SARS-CoV-2, which requires large laboratory space and trained workers to employ. RT-PCR tests are also costly, run a risk of cross-contamination, and can take hours or days to provide results, according to the authors.
The new test uses electrochemical impedance spectroscopy, which transforms the binding event between the SARS-CoV-2 viral spike protein and its receptor into an electrical signal that clinicians and technicians can detect in nasal swabs or saliva samples.
Rapid is affordable and scalable, the university added in a statement. Each test, which can be performed at room temperature, costs $4.67 to produce.