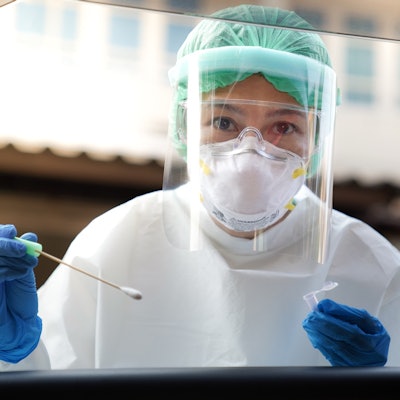 PerkinElmer has launched a lateral-flow immunoassay COVID-19 antigen test, a rapid antigen test suitable for mass COVID-19 screening or for diagnosis of asymptomatic or symptomatic individuals.
The test can be used to detect SARS-CoV-2 nucleocapsid protein antigen in nasal or nasopharyngeal swab specimens from asymptomatic or symptomatic individuals. Positive or negative results can be obtained in as little as 15 minutes, according to the company.
Available in more than 30 countries that accept the CE Mark, the IVD test is especially well-suited for point-of-care clinical and nonclinical settings such as healthcare centers, travel hubs, businesses, and educational institutions, the firm said. In clinical studies, the test yielded 97% sensitivity and 100% specificity across all samples.