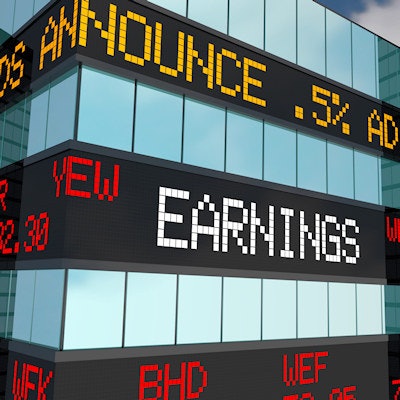 Strong performance in Roche's molecular diagnostics business -- COVID-19 tests in particular -- for the first half of the year helped offset losses for products used in routine practice and restricted during pandemic lockdowns, according to the company's latest earnings report.
For the first half at constant exchange rates, sales in the diagnostics division were up by 3% to CHF 6.1 billion ($6.5 billion U.S.), with molecular diagnostics up by 61%, the company reported. Sales were up in most parts of the world, aside from the Asia Pacific region, which saw a 9% decrease that Roche said was strongly related to the pandemic shutdown in China.
Half-year sales, diagnostics division, 2019-2020*
Division
HY 2020, CHF
HY 2019, CHF
Change, in CHF
Change at constant exchange rates
Centralized and point-of-care solutions
$3.19B
$3.77B
-15%
-10%
Molecular diagnostics
$1.56B
$1.03B
+51%
+61%
Diabetes care
$832M
$958M
-13%
-6%
Tissue diagnostics
$508M
$526M
-3%
+2%
Total diagnostics
$6.01B
$6.28B
-3%
+3%
*Figures are rounded
While there was growth at constant exchange rates for most regions, demand was down in all regions in the second quarter as the pandemic continued to take its toll and routine testing declined along with regular health checks, according to the company.
Uptake of new tests and pharmaceuticals has been strong, Roche said in a statement. New diagnostics launches related to the pandemic included the Elecsys SARS-CoV-2 test, the Roche v-Tac digital platform, and the Elecsys interleukin-6 (IL-6) test.
Overall, first-half sales for the company were up by 1% at constant exchange rates to CHF 29.3 billion ($31 billion) and down by 4% in Swiss francs. Core operating profit was up by 2% at constant exchange rates to CHF $11.7 billion ($12.6 billion) and down by 5% in Swiss francs.
Roche expects low- to mid-single digit sales growth for the rest of the year.
Half-year sales, 2019-2020*
Division
2020, CHF
2019, CHF
Change, in CHF
Change at constant exchange rates
Pharmaceuticals
$23.2B
$24.2B
-4%
1%
Diagnostics
$6.1B
$6.3B
-3%
3%
Total group
$29.3B
$30.5B
-4%
1%
*Figures are rounded