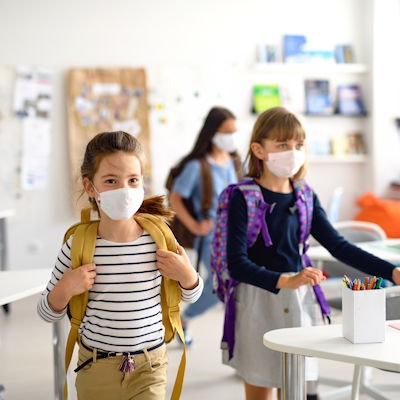 Officials on the White House Coronavirus Task Force are urging the reopening of schools and suggested that antigen testing and saliva specimen collection could work in this setting.
During a July 8 press briefing, Vice President Mike Pence noted that more than 39 million Americans have been tested, 3 million have tested positive, and more than 133,000 have died.
The federal government is currently educating states and working with commercial labs on pooling, whereby one test can screen multiple samples.
Pence noted that the fatality rate is low and steady and stressed the importance for children's health of getting children back in the classroom, learning in person, this fall. The federal government will be providing resources as needed to states -- including testing and other resources -- to realize this goal, Pence said.
The U.S. Centers for Disease Control and Prevention (CDC) will be releasing new guidance next week to give "all-new tools to our schools," including direction on symptom screening, Pence said.
There are currently many unanswered questions, including on testing in schools. Some universities have already built into their plans the idea of testing all students at the beginning of the academic year, and then doing surveillance testing, Pence noted.
The CDC currently does not advise universal testing for schools with children in grades K-12. Dr. Deborah Birx, response coordinator for the task force, noted that the under-10 years part of the population has had the least amount of testing. Data are skewed toward those who are symptomatic and over the age of 18, whereas younger people are often asymptomatic and are less represented, Birx said. There are innovations in testing such as antigen tests and saliva samples that could be helpful and are under consideration, Birx said. Admiral Dr. Brett Giroir has been working very hard to get antigen-based testing equipment into vulnerable areas like nursing homes, and in a school district this would make it much easier to test, as would saliva specimens, Birx said.