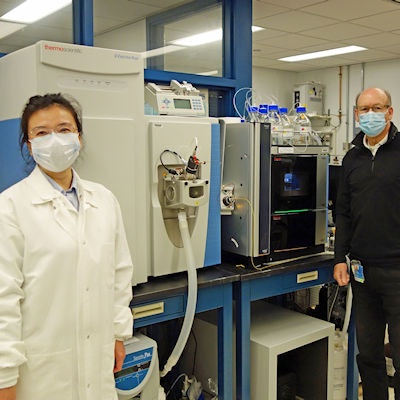 Staff members at the Clinical Mass Spectrometry Laboratory at Cincinnati Children's Hospital Medical Center have created a new mail-in blood test for children with transplanted organs.
The test, which was created in response to the closures of most hospital outpatient clinics due to COVID-19, eliminates the need for immunosuppressed patients to visit hospitals for blood tests. The tests measure levels of antirejection drugs, which help minimize the risk of organ rejection and must be monitored carefully, from a dried blood spot on a piece of paper.
A kit is mailed to the patient who is instructed to prick a finger and spot the blood onto a paper card. After it dries, it is put into an envelope and mailed to the hospital. When it arrives at the lab, a circular disc is punched out of the blood spot and the immunosuppressant is extracted and analyzed by high-resolution tandem mass spectrometry to determine the drug concentration.