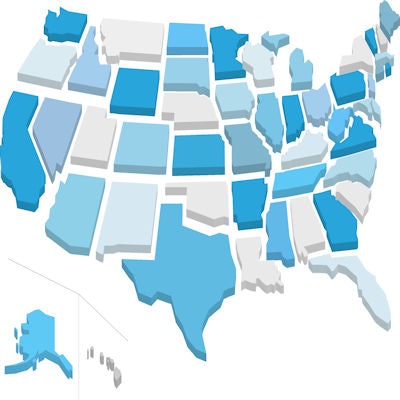 The White House has released a blueprint for coronavirus testing that outlines the responsibilities of states with support by the federal government, as part of its push for reopening economies.
The document outlines strategies for testing and rapid response programs needed to support President Donald Trump's three-phase guidelines for opening the country following lockdowns during the COVID-19 pandemic.
The federal government wants the states in the driver's seat for implementing testing programs. Its own responsibilities include the following:
Providing direction on technologies
Documenting each state's testing capacity and inventories
Working with governors to ensure laboratory needs are met
Helping to build supplies of testing components
Speeding up regulatory authorizations for tests
Acting as a "supplier of last resort"
Responsibilities of state governments include the following:
Developing programs tailored to their "unique circumstances and challenges"
Maximizing use of all available testing platforms and venues
Ensuring that every symptomatic patient gets a timely and accurate test
Assessing potential community spread by identifying asymptomatic individuals through sentinel monitoring
Containing potential outbreaks through systems for contact tracing
During an April 27 briefing of the White House coronavirus task force, response coordinator Dr. Deborah Birx said that the federal government has been working with governors, state and local health officials, laboratory directors, and the American Society for Microbiology to "ensure that the plans were efficient and effective."
States must deploy timely monitoring systems that have the ability not only to diagnose those who are symptomatic but also to "proactively and interactively work with individuals that we know are at higher risk," Birx said.
Trump noted during the briefing that more than 5.4 million diagnostic tests had been performed, with 200,000 done on April 25 alone, adding that this number would be doubling "very shortly."
"We are continuing to rapidly expand our capacity and confident that we have enough testing to begin reopening," Trump said.
Officials stressed the wide number of testing platforms now available. The U.S. Food and Drug Administration (FDA) has granted emergency use authorization for 70 tests, including eight antibody tests, and many more are on the market though they have not been validated by the agency. The blueprint document advises that the antibody tests "must be very accurate and reliable to guard against false positives, which can lead people to incorrectly believe they had the virus and may be immune from further infection."
Accuracy is a big concern with the antibody tests flooding the market. It's possible that the accuracy of antibody testing could be improved by "aggregating two successive tests under certain circumstances," according to the White House document.
"States and laboratories should independently validate antibody tests that the FDA has not yet authorized," it states. "The FDA will provide technical assistance to states and laboratories upon request."
Trump noted that the Medicare program has been directed to make it easier for seniors to get tested and that governors will be asked to do the same with Medicaid programs. Pharmacies are also authorized to conduct testing. The April 27 press briefing featured leaders from U.S. drug store chains, including Walgreens, which just announced it is set to greatly expand its capacity for drive-through testing in 49 states and Puerto Rico, in partnership with LabCorp.