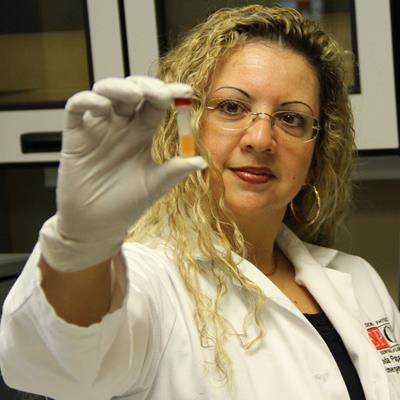 A blood test for detecting subconcussive injuries in children and adults is coming closer to fruition and one day could allow health professionals to prevent further brain damage, according to a study published online on August 26 in BMJ Paediatrics Open.
A group from Orlando Health, a not-for-profit healthcare organization in central Florida, and other U.S. institutions has made strides in developing a standard blood test that can spot concussive and subconcussive injuries, the latter of which are asymptomatic but cause brain damage over time with repeated injuries.
Lead author Dr. Linda Papa, an emergency room physician with Orlando Health, and colleagues published results from a study of 712 pediatric and adult emergency room patients evaluating the use of glial fibrillary acidic protein (GFAP) and ubiquitin C-terminal hydrolase L1 (UCH-L1) in blood tests to detect concussions in trauma patients with normal mental status. Biomarker concentrations were assessed over time, with higher levels indicating a concussion or subconcussive injury.
"In a cohort of trauma patients with normal mental status, GFAP outperformed UCH-L1 in detecting concussion in both children and adults," the authors reported.
Understudied trial population
Both GFAP and UCH-L1 were approved by the U.S. Food and Drug Administration in 2018 for use in evaluating mild to moderate traumatic brain injury (TBI) in adults to determine whether they needed a computed tomography (CT) scan. However, the proteins were not approved for diagnosing a concussion or mild injury or for use in children.
The researchers performed the study to further assess the value of GFAP and UCH-L1 and included a group of patients they said are rarely studied -- those who have hit their heads but have no symptoms. This is one of the largest studies of its kind, according to the investigators.
"Following trauma, patients often have a constellation of injuries and it is important that TBI biomarkers indicate brain-specific injury to be clinically useful," Papa and colleagues wrote.
The study included patients with the following:
Concussion
Head trauma without overt signs of concussion
Body trauma without head trauma or concussion
GFAP's ability to distinguish concussion from body trauma controls over seven days after an injury was fair to excellent, with an area under the receiver operating characteristic curve (AUC) of 0.75 to 0.89, the researchers found. The level of GFAP increased in the blood for the first 20 hours and then started to decline, but it remained detectable for a week.
The usefulness of UCH-L1 varied, with AUCs ranging from poor to good (0.54 to 0.78). Earlier samples were more helpful; UCH-L1 rose more rapidly after a concussion, peaked within eight hours, and then steadily decreased.
The combination of both biomarkers did not significantly improve concussion detection among the trauma patients. The distinction between patients with head trauma with and without concussion was not as robust as with body trauma controls. GFAP showed fair to very good AUCs (0.62 to 0.86) the week after the injury, with optimal performance between 24 and 96 hours.
The ability of UCH-L1 to distinguish concussion from head trauma patients was very poor, the authors noted.
Papa and colleagues foresee the development of a point-of-care test to detect the early, rapid rise of UCH-L1 in postinjury settings, for example, in ambulances or on battlefields. GFAP's longer half-life makes it a potential marker for both acute and subacute injuries, they wrote.
While the results are promising, the authors noted limitations of their research. The study only addressed the diagnosis of concussion in the acute care setting and did not describe the patients' long-term outcomes. In addition, more research is needed to better define the severity of concussion and mild TBI, especially when CT scans are negative, which often occurs even when patients have a concussion, they advised.
"The stage is set for future studies to verify these findings," the group wrote.