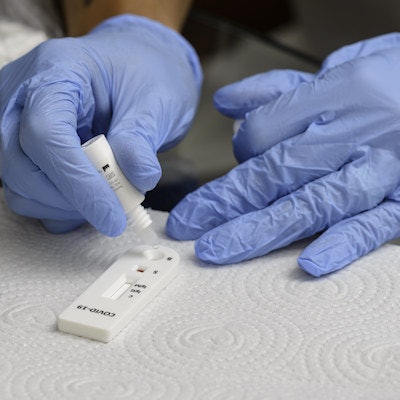 A study at children's daycare centers in Germany in mid-2021 has revealed that there was broad enough acceptance of continuous home-based COVID-19 tests to indicate that self-testing can become an effective tool in combating the spread of the virus in these facilities.
Successful long-term participation was highest among a group of study participants that took saliva-based tests.
The study, published in the JAMA Network Open journal Infectious Diseases, conducted twice weekly testing on asymptomatic children and workers by either self-sampled mouth-rinsing fluid (saliva sampling [SAL]) or by nasal rapid antigen self-test (RAgT).
Prior to this research, polymerase chain reaction (PCR)-based analyses had been the favored test for asymptomatic children due to the ability of PCR tests to detect low viral loads. However, PCR tests are not a practical solution because of their limited availability, high costs, and the need for well-equipped PCR laboratories to run the analysis, according to the researchers.
Drawing from nine children's daycare centers, the study secured the consent of parents for the participation of 452 children of the 836 children eligible for the study. These children were broken into three groups: Group 1 consisted of 215 children taking both SAL and RAgT tests; Group 2 consisted of 172 children only taking SAL tests; and Group 3 consisted of 65 who only took RAgT tests.
At the daycare centers, 190 childcare workers participated in the study. Ninety-six of the 190 workers were part of Group 1, 29 were part of Group 2, and 14 were part of Group 3.
Among these three groups, successful long-term participation was highest among Group 2, which only took the SAL tests. In this group, 111 of 172 (64.5%) of the children successfully participated long term and 18 of 29 (62.1%) of the workers maintained long-term testing. Group 2 had the least invasive testing, with saliva sampling only.
The researchers argue that for the early detection of infected asymptomatic individuals, a short time-to-result interval might be more relevant than high test sensitivity. RAgTs have been shown to fulfill the requirements for easy-to-use, rapid, point-of-care tests with a lower but still acceptable limit of detection.
In a previous study in daycare centers, the researchers found that acceptance of noninvasive saliva sampling was superior to nasal swabbing by medically trained personnel. In the present study, the researchers focused on noninvasive sampling combined with resource-saving pooled PCR testing and compared its feasibility with self-sampled RAgTs.
"We evaluated these continuous surveillance approaches for SARS-CoV-2 in asymptomatic children and childcare workers in daycare centers and analyzed attitudes and psychosocial factors viewed as potentially influential factors," the researchers explained in their report. "In addition, we developed a model to estimate the probability of SARS-CoV-2 introduction into the [daycare centers] to support decision-making on a reasonable start and end point for continuous surveillance."
The successful long-term participation of both the children and the workers promises a key change in the way that testing is conducted in these child daycare centers going forward, according to the researchers.
"SARS-CoV-2 surveillance via continuous self-sampling analyzed by rapid tests or pooled saliva PCR testing can be applied if laboratory equipment, consumables, and logistics are available and sampling sets are provided for the parents and childcare workers and, thus, may help to enable continuous child day care," concluded the researchers in their report.