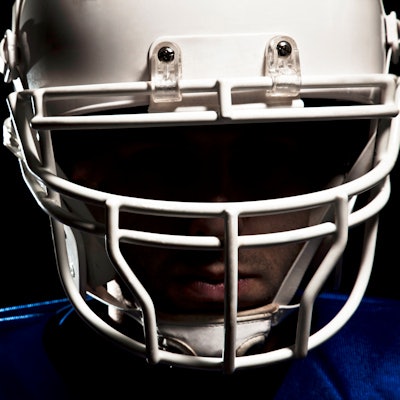 Blood testing for inflammatory biomarkers -- interleukin-6 (IL-6) and interleukin-1 receptor antagonist (IL-1RA) -- is helpful for assessing young football players for concussion and appears complementary to brain-specific markers, researchers reported in Neurology on July 3.
In the prospective study, 857 male high school and college-aged players underwent blood testing at baseline for a variety of inflammatory biomarkers. IL-6 and IL-1RA were significantly elevated in a cohort of 41 players with concussion six hours after the injury, compared with preinjury and postinjury levels, and also compared with matched controls, according to senior author Timothy Meier, PhD, an assistant professor of neurosurgery at the Medical College of Wisconsin, and colleagues.
What's more, IL-6 levels six hours after a concussion were significantly associated with the length of time it took players to recover from symptoms.
"Results support the potential utility of IL-6 and IL-1RA as serum biomarkers of [sport-related concussion] and demonstrate the potential of these markers in identifying athletes at risk for prolonged recovery after [sport-related concussion]," Meier et al wrote.
"This prospective cohort study represents a crucial first step in determining the potential utility of inflammatory markers in the clinical management of concussion," they noted.
In position for supporting role
Some 3.8 million cases of sport-related concussion are reported in the U.S. annually. The length of time it takes to recover varies and, thus, can be hard to predict, the authors wrote. Research into sport-related concussion and other mild traumatic brain injuries to date has focused more on blood markers that are "relatively specific to brain injury," for example, ubiquitin C-terminal hydrolase L1 and S100 calcium-binding protein B, but markers "capturing other aspects of the known neurometabolic cascade of concussion" may provide useful information, they added.
The role of inflammatory biomarkers and the association of test results soon after injury with outcomes have been noted in moderate to severe cases of brain injury, and the study in Neurology adds to what is known about biomarkers in mild cases, the researchers suggested. The study was funded by the U.S. Department of Defense and the U.S. National Institute of Neurological Disorders and Stroke, part of the National Institutes of Health.
Out of 17 football players whose IL-6 was elevated six hours after a concussion, compared with their baseline results, eight (47%) still had symptoms through a check at eight days, the researchers reported. Also, out of 18 with elevated IL-1RA, eight (44%) still had symptoms at the eight-day mark postinjury.
"Importantly, elevated IL-6 levels at [six] hours postconcussion were associated with longer symptom recovery in concussed athletes," they wrote. "These results demonstrate the sensitivity of serum inflammatory markers to [sport-related concussion] and highlight the potential of these markers in identifying athletes at risk for prolonged recovery following [sport-related concussion."
A challenge with inflammatory markers is that they are affected by many different conditions and diseases; however, they still may play a causal role in brain injury severity and recovery, Meier et al noted. The study results suggest they may be well-suited for a complementary diagnostic role for concussion and for predicting the length of recovery time.
"Clinically, a biomarker panel that includes markers covering multiple aspects of the neurometabolic cascade of concussion is likely to have the greatest diagnostic and prognostic value," the authors wrote. "Follow-up studies with larger sample sizes are needed to sufficiently determine the sensitivity and specificity of inflammatory markers alone and in combination with other, more specific brain injury markers."
It will also be important for researchers to investigate the use of other inflammatory biomarkers, they advised.