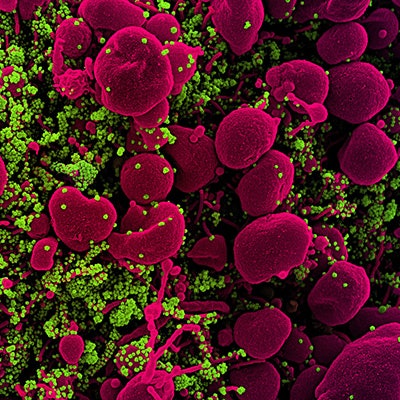 Researchers have started to piece together the science behind why some patients develop long COVID and others do not by identifying several factors that can be measured at the patient's initial COVID-19 diagnosis, according to research published online in the journal Cell on January 25.
Post-acute sequelae of COVID-19 (PASC) -- otherwise known as long COVID -- is estimated to occur in 31% to 69% of COVID-19 patients. The condition has a range of symptoms associated with it, including loss of memory or smell, fatigue, gastrointestinal distress, shortness of breath, and other symptoms. However, how to predict PASC has remained elusive to researchers.
In the current study, a team of researchers, led by Yapeng Su of the Institute for Systems Biology (ISB) in Seattle, identified four risk factors whose presence can forecast which patients may develop long COVID: type 2 diabetes, SARS-CoV-2 RNAemia, Epstein-Barr, virus viremia, and specific autoantibodies.
"Identifying these PASC factors is a major step forward for not only understanding long COVID and potentially treating it, but also which patients are at highest risk for the development of chronic conditions," Jim Heath, PhD, president of ISB and a co-corresponding author of the paper, said. "These findings are also helping us frame our thinking around other chronic conditions, such as post-acute Lyme syndrome, for example."
Multiomics approach to deciphering long COVID
For the study, 309 patients were tracked at clinical diagnosis, acute disease, and two to three months after the initial onset of symptoms. The research team analyzed their blood samples for autoantibodies and SARS-CoV-2-specific autoantibodies and characterized both the plasma and single-cell multiomic profiles of patients. Those data were then integrated with clinical data and patient-reported surveys. Each draw was paired with a nasal swab and a plasma measurement of the patient's viral load of SARS-CoV-2.
One important finding was that viral load measured early on in patients was a good indication of long COVID symptoms developing, Su et al noted.
"We found that early blood viral measurements are strongly associated with certain long COVID symptoms that patients will develop months later," Su said.
Another finding by the researchers showed that Epstein-Barr virus is reactivated early after infection with SARS-CoV-2 and is significantly tied to future long COVID symptoms.
Since long COVID exhibits a range of symptoms, the researchers noted that teasing out and quantifying the individual PASC factors will be fundamental to developing treatments as well as further characterizing what long COVID is.
"Long COVID is causing significant morbidity in survivors of COVID-19, yet the pathobiology is poorly understood," said Dr. Jason Goldman, co-corresponding author of the paper and an infectious disease expert at Swedish Medical Center in Seattle. "Our study pairs clinical data and patient-reported outcomes with deep multi-omic analyses to unravel important biological associations that occur in patients with PASC. Certain findings such as the low cortisol state in patients with long COVID have potential to translate rapidly to the clinic. Our results form an important foundation for the development of therapeutics to treat long COVID."