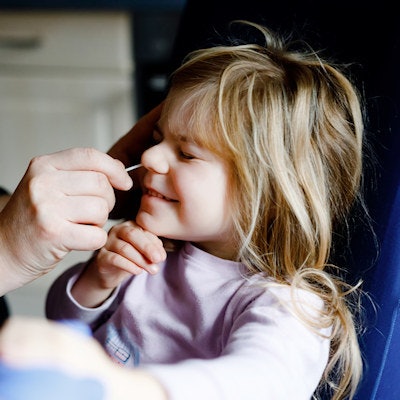 New research out of Germany suggests that continual surveillance testing for COVID-19 in daycare settings is not only realistic but accepted by children, parents, and childcare workers, according to a study published on January 4 in JAMA Network Open.
In addition, continual surveillance that used saliva samples to test participants had lower study dropout rates when compared with other sample collection methods such as nasal swabs.
"Importantly, we can show that long-term surveillance testing is feasible and well accepted by children, parents, and CCWs [childcare workers], with long-term acceptance rates greater than 65% when using noninvasive saliva sampling," concluded the authors of the study, led by Dr. Johannes Forster of the Institute for Hygiene and Microbiology at the University of Wuerzburg in Germany.
Furthermore, the study found that even though symptomatic testing identifies more cases, asymptomatic testing of individuals can still aid in detecting cases early in daycare centers (DCCs).
"Although a symptomatic testing approach identifies more cases compared with continuous testing of asymptomatic individuals, our data suggest that continuous testing of asymptomatic individuals is better suited to detect cases early and avoid transmission within DCCs," the authors wrote.
The findings may come as a relief to parents and their preschool children, for whom social distancing and mask-wearing are not an option. Absent other avenues to contain the spread of SARS-CoV-2, global measures have typically involved the closure of DCCs, which has led to detrimental effects on the well-being of children.
"Diminished educational, psychosocial, and nutritional opportunities are negative consequences of DCC closures, especially for children with special educational needs, chronic disease, and poor socioeconomic status," Forster et al wrote.
To find another way to keep preschool children in school while containing the spread of the virus, the researchers sought to determine if participants would be accepting of continual testing.
"To avoid complete DCC closures, alternative approaches that enable safe childcare in a pandemic are urgently required," the authors wrote.
The research was conducted at nine daycares located throughout the Wuerzburg area of Bavaria from October 2020 to March 2021. In a nonrandomized study design, the researchers created four different modules to measure participants' acceptance of surveillance testing: Modules 1-3 used polymerase chain reaction testing of asymptomatic children and childcare workers during a 12-week period, while module 4 only tested symptomatic patients (children, childcare workers, or household members) on an on-demand basis.
Results of COVID surveillance testing
Acceptance by participants*
Type
Dropout rate
Module 1
51 of 117 individuals (43.6%; 95% [confidence interval, CI] 35.0%-52.6%)
Biweekly nasal midturbinate swabs
18%
Module 2
44 of 128 individuals (34.4%; 95% CI, 26.7%-43.0%)
Weekly nasal midturbinate swab
20%
Module 3
150 of 221 eligible individuals (67.9%; 95% CI, 61.5%-73.7%)
Biweekly saliva sampling
4%
*Participants include children & daycare workers. Acceptance is defined as successful participation in at least 60% of all scheduled samples.
Another benefit of continuous testing over on-demand testing, according to the study, was that the former significantly improved the parents' sense of security.
"Importantly, continuous testing but not on-demand symptomatic testing significantly improved the parents' sense of security and avoided an increase of anxiety and depression," Forester et al wrote.
The results of the study suggest that surveillance testing can be an effective alternative to DCC closures, which have negative effects on children's health and psychosocial well-being.
"Our findings suggest that evidence-based continuous surveillance can help to avoid the negative impact of closure of DCCs," the authors concluded.