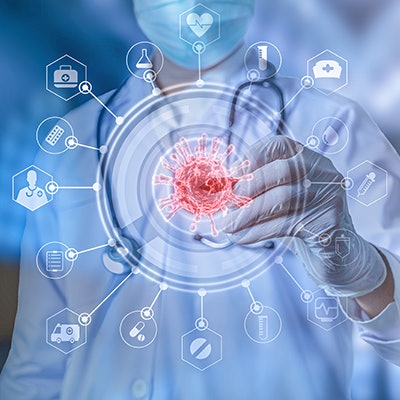 Researchers have developed a machine-learning algorithm that could help healthcare workers quickly screen and direct the flow of COVID-19 patients arriving at hospitals, according to a September 27 poster session at the 2021 American Association for Clinical Chemistry (AACC) annual meeting.
The team developed the algorithm using diagnostic and demographic data from 21,672 patient hospital records. The model can differentiate between COVID-19 and non-COVID-19 patients with an accuracy rate of up to 92.5%.
The model is particularly reliable when identifying patients who don't have COVID-19, showing a negative predictive value of up to 96.9%, according to the group, led by Rana Zeeshan Haider, PhD, and Dr. Tahir Sultan Shamsi of the National Institute of Blood Disease and Bone Marrow Transplantation in Karachi, Pakistan.
"The true negative labeling efficiency of our research advocates its utility as a screening test ... aiding prompt care decisions, directing patient-case flow, and fulfilling the role of a 'pretest' concerning orderly RT-PCR [reverse transcription polymerase chain reaction] testing where it is not handy," Haider said.