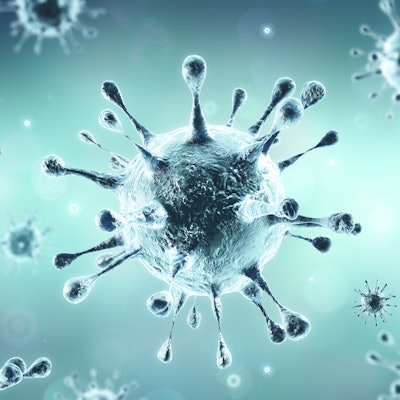 A study published March 12 in the Lancet journal describes what is believed to be the first person-to-person transmission of the SARS-CoV-2 virus in the U.S. The incident occurred when an Illinois woman who had traveled to Wuhan, China, was symptomatic.
The report highlights that those living with or providing care for people with symptomatic coronavirus are at risk, noted study co-author Dr. Tristan McPherson of the Chicago Department of Public Health.
"Without using appropriate facemasks or other personal protective equipment, individuals living in the same household as, or providing care in a nonhealthcare setting for, a person with symptomatic COVID-19 are likely to be at high risk of infection," McPherson said in a statement released by the journal. "Current CDC [U.S. Centers for Disease Control and Prevention] recommendations for individuals with high-risk exposures to remain quarantined with no public activities might be effective in reducing onward person-to-person transmission of SARS-CoV-2."
The transmission occurred between a woman in her 60s who had recently traveled to China and passed the infection to her husband upon return to the U.S. Her infection was reported on January 23 by the state of Illinois and was its first laboratory-confirmed case; her husband's case was reported on January 30.
The woman had traveled to Wuhan on December 25, 2019, and visited a relative who was hospitalized with an undiagnosed respiratory illness. When she returned to the U.S. on January 13, she began to experience symptoms.
"She experienced six days of mild fever, fatigue, and cough before being hospitalized with pneumonia and testing positive for SARS-CoV-2," according to the Lancet statement. "Prior to hospitalization she was living with her husband, who has chronic obstructive pulmonary disease and chronic cough. ... Eight days after his wife was admitted to hospital, the husband was also hospitalized with worsening shortness of breath and coughing up blood, and also tested positive for SARS-CoV-2."
Illinois public health workers investigated the two cases, identifying 347 individuals who were potential contacts of the couple. These contacts were actively monitored for 14 days after their exposure to the virus through the couple had been confirmed (152 were community contacts and 195 were healthcare professionals). No other transmission was found to be caused by the woman or her husband.
The couple recovered and were "discharged to home isolation, which was lifted 33 days after her return from Wuhan" and following two negative tests for the virus performed 24 hours apart, study authors wrote.
"This report suggests that person-to-person transmission of SARS-CoV-2 might be most likely to occur through unprotected, prolonged exposure to an individual with symptomatic COVID-19," said study co-author Dr. Jennifer Layden, PhD, chief medical officer of the Chicago Department of Public Health, in the Lancet statement.