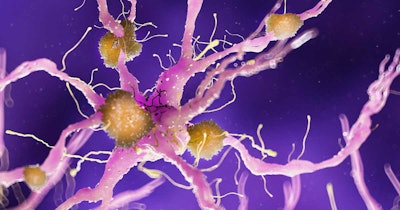 Synaps Dx (SDx) said the U.S. Food and Drug Administration's (FDA) approval of Leqembi (lecanemab) for the treatment of Alzheimer's disease represents a turning point for clinicians, payers, and other stakeholders. To support the new drug, healthcare systems need a reliable diagnostic test, which is where its Discern Alzheimer's disease test can play a part, the firm said.
Discern requires a small skin sample taken by a certified healthcare provider. It is autopsy-validated to identify Alzheimer's disease in people recently diagnosed with dementia. The test assesses the factors directly related to synaptic connection formation that affect memory loss and cognitive decline in people living with Alzheimer's disease as well as regulators of amyloid plaque and tau formation, which are hallmarks of the disease. Discern is accessible and time- as well as cost-effective in the primary care setting, according to the company.
"Cost-effectively identifying appropriate candidates for treatment with these drugs will be key to setting expectations of patients, providers, and budget impact planning for payers," Frank Amato, SDx's CEO and president, said in a statement. "Without access to cost-effective diagnostic tools in the primary care setting, data suggest that currently 50% to 70% of symptomatic patients are misdiagnosed with [Alzheimer's disease]."
The new drug is an amyloid beta-directed antibody indicated for the treatment of Alzheimer's disease. However, in order to clear amyloid beta plaque, clinicians must first confirm the presence of amyloid plaque to accurately diagnose patients. Not doing so could result in giving patients the wrong drug.
Discern is cost-neutral when added to the current diagnostic pathway, according to economic models, SDx said. In addition, the solution is commercialized under a CLIA authorization, has received reimbursement codes, is currently paid for by Medicare Fee-For-Service, and reimbursement is underway with commercial and Medicare Advantage payers.