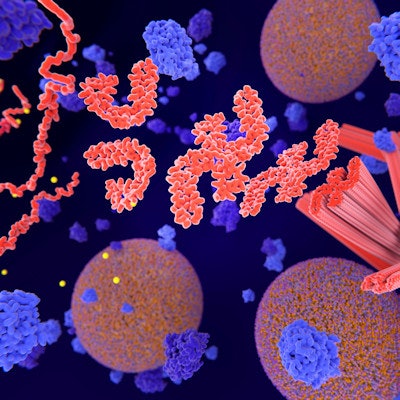 Swedish researchers have developed a test for Alzheimer's disease that measures a particular variant of tau protein called p-tau181 in everyday blood samples, according to a study published in the May issue of Lancet Neurology.
The new test could make screening and diagnosis of the disease easier, wrote a team led by Dr. Kaj Blennow, PhD, of the University of Gothenburg. This protein is typically identified via cerebrospinal fluid testing or PET scans, both of which have their drawbacks.
"Tests of cerebrospinal fluid are ... difficult to perform in primary care, and the high costs of PET scans restrict their use," the group noted in a statement released by the university. "Being able to establish tau pathology through ordinary blood tests will therefore be highly valuable."
Nervous system changes
Alzheimer's manifests as two changes in nervous system tissue: the formation of clumps of a protein called beta amyloid, and neurofibrils composed of tau protein that stick together in "tangles" in a process called phosphorylation, ­­the group wrote. The disease has long been diagnosed by laboratory tests and imaging exams such as MRI or PET. The test Blennow's group developed measures phosphorylated tau, in particular a variant called p-tau181, in everyday blood samples. The measurement is performed by a technique called single molecule array, which can measure much lower levels of protein biomarkers than other methods, according to the team. (Lancet Neurol, May 2020, Vol. 19:5, pp. 422-433).
To investigate whether blood p-tau181 could be used as a biomarker for Alzheimer's disease, the researchers conducted a study that divided 1,131 patients into four cohorts:
A discovery group that consisted of patients with Alzheimer's disease and age-matched controls (n=37)
Two validation groups that consisted of cognitively healthy older adults (n=226) and participants with mild cognitive impairment, Alzheimer's disease, and frontotemporal dementia (n=763)
A primary care group made up of patients without diagnoses for neurological conditions (n=105)
The group compared concentrations of p-tau181 to cerebrospinal and PET biomarkers and assessed performance using the area under the curve (AUC) measure.
The study showed that the level of p-tau181 was elevated in patients with Alzheimer's disease, even in early stages. The biomarker increased gradually in all cohorts. The lowest concentrations were reported in young adults who were negative for beta amyloid and older adults who were cognitively impaired. Higher concentrations were found in those who were positive for beta amyloid and had mild cognitive impairment And the highest concentrations were reported in participants who had beta amyloid-positive mild cognitive impairment and Alzheimer's disease.
The test was also able to distinguish Alzheimer's disease from other disorders, the group found.
P-tau181 blood test performance in distinguishing Alzheimer's from other neurodegenerative disorders
Neurodegenerative disorder
Area under the receiver operating curve (AUC)
Frontotemporal dementia
0.82
Vascular dementia
0.92
Progressive supranuclear palsy or corticobasal syndrome
0.88
Parkinson's disease
0.81
"Our [test] enabled the identification of brain tau pathology, showing increased concentrations of blood p-tau181 in individuals with [beta amyloid] pathology who were tau PET-negative," the group wrote. "Moreover, plasma p-tau181 provided high diagnostic accuracy for Alzheimer's disease in four independent cohorts."
An accessible test
The study findings suggest that there could be a less invasive and more accessible way to screen and diagnose Alzheimer's, according to the team.
"In conclusion, our high-performance blood p-tau181 assay could represent the first simple, practical, and scalable test for the diagnosis of Alzheimer's disease," it wrote. "The blood p-tau 181 assay has the potential to be incorporated into clinical practice as a rapid screening test to rule out Alzheimer's disease pathophysiology and to guide therapy and clinical management of patients with dementia."