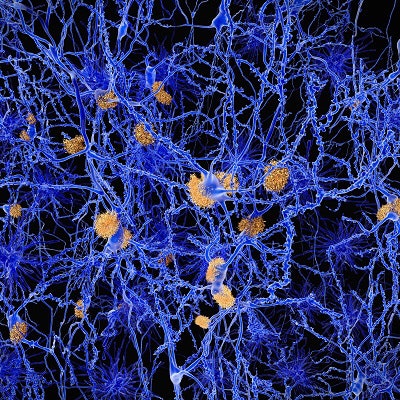 Against the shadowy backdrop of multiple failed trials in Alzheimer's disease, hope springs eternal for a reliable, noninvasive blood test for dementia, as shown by studies presented at the Alzheimer's Association International Conference (AAIC) in Los Angeles on July 15.
Among three studies of blood tests flagged by meeting organizers was a report from Dr. Akinori Nakamura, PhD, of the National Center for Geriatrics and Gerontology in Obu, Japan, and colleagues that biomarker composite derived from ratios of plasma levels of amyloid-related peptides -- amyloid-β precursor protein (APP)669-711/amyloid-β (Aβ)1-42 and Aβ1-40/Aβ1-42 -- and tested with mass spectrometry were significantly correlated with results for beta amyloid as measured with PET scans. The study included 201 samples from patients seen in three Japanese centers, including patients with Alzheimer's disease, mild cognitive impairment, and non-Alzheimer's dementia.
The plasma beta-amyloid biomarker conveyed partial information related to disease progression, as is the case with amyloid PET imaging, and "appeared to be able to detect earlier stages" of beta-amyloid deposits, prior to the onset of symptoms, the researchers reported at the meeting.
"Although we still need further validation studies, these results suggest that the plasma biomarker may be useful in screening people who are at risk for Alzheimer's," Nakamura and colleagues reported. "This can facilitate clinical trials for Alzheimer's therapies, and also accelerate studies to investigate the effects of nondrug interventions, risk management, and lifestyles on Alzheimer's progression."
Scaling up with blood tests
Whereas PET imaging is expensive and difficult to access, blood tests promise to be cost-effective and highly scalable. The many trial failures of Alzheimer's drugs have moved the field of research toward earlier and earlier stages of disease, when treatment may be able to have more of an impact, at least that's the theory. But screening the population for preclinical disease is a Herculean and potentially cost-prohibitive undertaking. That's where blood tests show promise for playing a game-changing role.
The AAIC presentation by Nakamura's group followed a report validating the ratios for the prediction of beta-amyloid status on PET imaging by the same research team in the journal Nature last year (February 8, 2018, Vol. 554:7691, pp. 249-254). That study included a cohort in Japan and a cohort in Australia.
Dr. Randall Bateman, an expert in dementias from Washington University, had made a big impression at the AAIC meeting in 2017, with a report about how the measurement of beta-amyloid ratios improved the accuracy of blood tests (Alzheimers & Dementia, August 2017, Vol. 13:8, pp. 841-849).
The method has now been studied in multiple study cohorts, and "it does seem to be a reliable indicator across multiple different racial groups," commented Keith Fargo, PhD, director of scientific programs and outreach at the Alzheimer's Association.
"I am surprised by the rapidity with which we are seeing these developments," Fargo told LabPulse.com in an interview from the meeting. "These are dominoes that are falling very quickly."
Blood testing is not available in clinical practice today, but it is being used in clinical trials, and researchers have "cracked this conceptually" -- it's no longer about wishful thinking, Fargo said. In trials of drugs that are aimed at amyloid plaque that defines Alzheimer's, it's crucial to ensure that participants actually have Alzheimer's and not some other kind of dementia, but amyloid PET imaging is "enormously expensive" compared with blood tests and that's been a real hurdle, Fargo said.
Differentiating dementias
In addition to the beta-amyloid blood test results from Nakamura's team, the AAIC highlighted blood tests for Lewy body dementia, a condition associated with the buildup of protein deposits in nerve cells in the brain, and neurofilament light (NfL) protein.
In a study of 39 people with early-stage Alzheimer's disease and 39 healthy controls, those with disease had much lower levels of the alpha-synuclein, a protein found in nerve cells in the brain, and the combination of alpha-synuclein with beta amyloid and with tau proteins, in their red blood cells, reported Dr. Filippo Baldacci, a dementia specialist from the University of Pisa in Italy, and colleagues. The hope is that the biomarker could be used to differentiate Lewy body dementia and Parkinson's disease from Alzheimer's.
A third study highlighted by the Alzheimer's Association evaluated blood testing for NfL, a protein that has emerged as a biomarker for neuron damage associated with neurodegenerative diseases. Results for two cohorts and a total of 2,317 people with a wide range of cognitive conditions were reported at the AAIC by Abdul Hye, PhD, of the Institute of Psychiatry, Psychology & Neuroscience at King's College London, and colleagues.
NfL was significantly higher for several neurodegenerative conditions, including frontotemporal dementia, dementia with Lewy bodies, corticobasal syndrome, Down syndrome with dementia, and amyotrophic lateral sclerosis. Using an NfL cutoff level of 44.7 pg/mL, researchers predicted 80% of amyotrophic lateral sclerosis, 100% of Down syndrome with dementia, up to 60% of corticobasal syndrome, and over 50% of frontotemporal dementia cases. However, the biomarker only predicted 20% to 30% of Alzheimer's disease, they noted.
NfL is not a terribly specific biomarker, but it is nevertheless attracting increasingly more attention from researchers and industry. In a large meta-analysis recently reported in JAMA Neurology (June 17, 2019), researchers found that NfL measured in cerebrospinal fluid could help differentiate some neurodegenerative disorders, such as frontotemporal dementia and parkinsonian disorders, from other conditions. They concluded that age-, gender-, and disease-specific cutoff reference values may be needed.
Ultimately, dementia is probably going to require testing of multiple biomarkers in the brain and be treated with a cocktail of medications, noted Fargo of the Alzheimer's Association. After all, a patient might have a mix of pathologies, so treating just one disease may not be effective. A panel test -- like what is available for lipids today to show the full picture of cholesterol in the blood -- is needed.
"That's what the future is going to look like with neurodegenerative diseases as well," Fargo said.
Risk for overdiagnosis?
Blood tests could be done as an initial screen, and if it raised a red flag, the patient could then undergo further testing with more expensive and conclusive methods, suggested Fargo, adding that he envisions in the future brain screening could be part of an annual checkup, along with things such as cholesterol and hemoglobin A1c.
There have been concerns about overdiagnosis and whether it is worthwhile to test people when no disease-modifying drug is available. Fargo acknowledged this is a "valid concern" and that the risk-benefit ratio will change enormously once disease-modifying drugs become available.
However, he also noted that there is more hope now for lifestyle modifications in Alzheimer's disease. This year's AAIC featured five studies about lifestyle choices that can offset genetic risk for the disease. For example, smoking and overuse of alcohol are associated with the risk for cognitive impairment and are changeable.