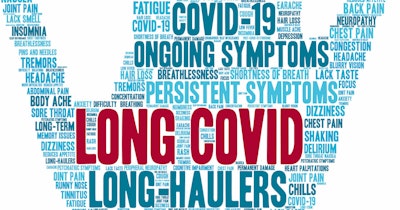 Swiss researchers have found that about 17% of unvaccinated people report experiencing COVID-19-related health problems up to two years after SARS-CoV-2 infection.
Their study, published Wednesday in the BMJ, furthers understanding of these persistent health issues, also known as long COVID.
Most people who have COVID-19 recover soon after the disease's initial phase, but others experience ongoing symptoms that impact their quality of life and ability to work. Researchers believe that understanding long COVID's symptoms and recovery trajectory is crucial for treatment decisions, care coordination, and policy making. However, previous long COVID studies report a wide range of estimates on the number of people affected and how long the symptoms last, preventing experts from making informed recommendations.
To address this uncertainty, researchers examined recovery and symptom persistence patterns over two years in participants from the ongoing population-based, longitudinal Zurich SARS-CoV-2 Cohort Study. The researchers compared 1,106 unvaccinated adults (average age 50) with confirmed SARS-CoV-2 infections between August 6, 2020, and January 19, 2021, with 628 randomly selected adults (average age 65) who had not had the virus. Participants provided information on 23 potential long COVID symptoms six, 12, 18, and 24 months after infection. Other potentially influential factors taken into account included age, sex, education, employment, and preexisting health problems.
Overall, 55% of participants reported returning to their normal health status less than a month after infection, and 18% reported recovering within one to three months. By six months, 23% of participants reported that they had not yet recovered; this reduced to 19% at 12 months, and 17% at 24 months.
Compared with people who did not have an infection, those with COVID-19 were at excess risk for both physical and mental health issues at six months, including altered taste or smell (9.8%), fatigue after exertion (9.4%), shortness of breath (7.8%), reduced concentration (8.3%), and anxiety (4%). People who reported symptoms at all follow-up appointments, or reported worsened symptoms, were more likely to be older and/or have preexisting health problems.
The researchers acknowledge that their observational findings had limitations, including using data from only wild type SARS-CoV-2 in an unvaccinated population, and sometimes unreliable self-reported health assessments. Nevertheless, they contend that the large size of the study, regular assessments of a range of health outcomes, and similar findings upon further analyses strengthened the credibility of the findings.
"Persisting health issues create significant challenges for affected individuals and pose an important burden on population health and healthcare services," the authors noted in a statement. They call for clinical trials "to establish effective interventions to reduce the burden of post-COVID-19 condition."