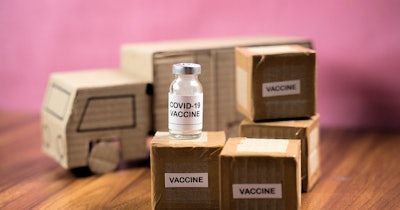 Fully vaccinated individuals had a lower risk of dying or developing some non-respiratory symptoms than people without protection against COVID-19 during the Delta and Omicron waves, a retrospective review of medical records has found.
The analysis, details of which were presented Tuesday at the ATS 2023 International Conference in Washington, DC, reviewed data from 63,454 patients who were treated in a University of California medical center for COVID-19. A team at the University of California used the dataset to analyze how SARS-CoV-2, a respiratory pathogen, affected organs other than the lungs during the various variant-driven waves of infection that hit the U.S.
"We determined that we would conduct this study because the scientific literature has shown that, although COVID is a respiratory disease, it affects multiple organ systems," Shannon Cotton, an intensive care unit nurse at UC San Diego Health and nursing science PhD student, said in a statement. "We wanted to determine which organ systems and features were most affected by the different SARS-CoV-2 variants, which were more likely to lead to death and the effect of being vaccinated or not fully vaccinated."
Using the University of California Health COVID Research Data Set, the team compared non-respiratory features, vaccination status, and mortality between variants. The analysis showed what non-respiratory symptoms COVID-19 patients experienced and revealed differences based on vaccination status.
Fever was the most common non-respiratory symptom for all variants, regardless of vaccine status. In the Delta and Omicron waves, fever was significantly more common among non-vaccinated people than fully vaccinated individuals. Similarly, heart disease was significantly higher in non-vaccinated people at the time of the Omicron wave, and tachycardia — a fast heart rate — was higher in Delta and Omicron.
Like fever, diabetes and gastrointestinal reflux were features of all variants regardless of vaccine status. Overall, vaccination was associated with a decrease in the frequency of non-respiratory features. Furthermore, the odds of death were significantly higher among people who were not fully vaccinated during the Delta and Omicron waves.
The study also looked at the initial wave, which was driven by the ancestral form of SARS-CoV-2, and the wave fueled by the Alpha variant. The initial wave happened before the approval of COVID-19 vaccines, and the Alpha wave happened at the same time as the rollout of the vaccines, with cases attributed to the variant in California peaking as the vaccination rate in people aged over 65 in the state passed 75%.