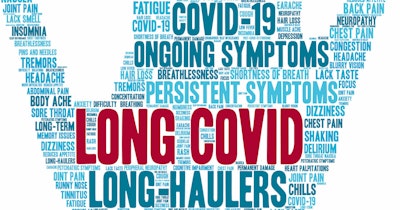 Individuals with long COVID were found to have more than double the risk of developing new cardiovascular symptoms. The results of a comprehensive study examining cardiovascular complications from long COVID will be presented at the American College of Cardiology conference with the World Congress of Cardiology (ACC.23/WCC) conference. The event, marking the ACC's 72nd Annual Scientific Session, will take place March 4-6, both online and in New Orleans.
Surveys indicate that one in seven people in the U.S. have had long COVID. While there is no universal definition, the study's authors defined long COVID as symptoms persisting for at least four weeks and occurring at least two months after an initial COVID-19 infection.
"COVID-19 is more than a simple respiratory disease -- it is a syndrome that can affect the heart," Global Remote Research Scholars Program lead author Joanna Lee said in a statement. "Clinicians should be aware that cardiac complications can exist and investigate further if a patient complains of these symptoms, even a long time after contracting COVID-19. For patients, if you had COVID-19 and continue to have difficulty breathing or any kind of new heart problems, you should go to the doctor and get it checked out."
The authors conducted a systematic literature review and meta-analysis of 11 major studies that included data on cardiovascular outcomes among people with long COVID as well as a control group that had never had COVID-19. Patients with preexisting cardiovascular disease were included, but their symptoms were only counted as long-COVID cardiovascular complications if they were new symptoms that emerged after the COVID-19 infection.
Of the more than 5.8 million participants across the 11 studies, almost 450,000 experienced cardiac complications. Among those with long COVID, the rate of cardiac complications was 2.3 to 2.5 times higher compared with those in the control group.
Individuals with long COVID were significantly more likely to experience symptoms associated with heart problems, including chest pain, shortness of breath, heart palpitations, and fatigue, than those who had never had COVID-19. Long-COVID patients were also more likely to show heart disease markers or elevated cardiovascular risk in medical imaging and diagnostic tests.
Although the precise biological mechanisms involved in the association between long COVID and heart complications are unknown, researchers note that chronic inflammation, documented by persistently elevated inflammatory markers in patients with long COVID, could be a factor. They say that coordinated efforts among primary care providers, emergency room staff, and cardiologists could help with the early detection and mitigation of cardiac complications among long-COVID patients.