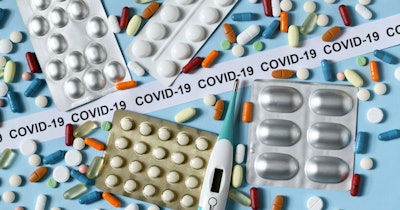 Colorado researchers investigated the effectiveness of the drug nirmatrelvir-ritonavir, also known as Paxlovid, in non-hospitalized patients during a time period in which Omicron subvariants BA.4 and BA.5 were prevalent.
The findings, published on Friday in Lancet Infectious Diseases, suggest that Paxlovid remains effective at neutralizing even more recent Omicron subvariants of the SARS-CoV-2 virus.
The COVID-19 pandemic is not over, as the virus continues to evolve, circulate, and impact people's health, especially older adults and those with underlying medical conditions. The initial Omicron variant gave rise to such subvariants as BA.1, BA.1.1, BA.2, BA.2.12.1, BA.3, and more recently, BA.4 and BA.5. These all vary by having different mutations in the spike protein—the part of the virus that penetrates host cells and causes infection.
Due to the continuing evolution of these subvariants, maintaining effective therapeutic options for infected high-risk patients remains challenging. Monoclonal antibody treatments are ineffective against the new subvariants. Only two antiviral treatment options -- Paxlovid and Remdesivi -- are currently effective. Researchers sought to determine if Paxlovid was effective against Omicron subvariants BA.4 and BA.5.
They performed an observational study using data from 28,000 patients provided by the UCHealth system, Colorado's largest statewide health system. They examined the data of patients with one or more risk factors for severe disease, hospitalization, or death, and who either did or did not receive Paxlovid. They found that Paxlovid's use significantly reduced hospitalization and death rates, effectively preventing hospitalization among almost all outpatient subgroups who qualified for the drug's use under the government's emergency use authorization (EUA).
This study was one of the first to examine the effectiveness of Paxlovid in non-hospitalized patients during a period of the COVID-19 pandemic that included Omicron BA.4 and BA.5 subvariants. Beyond its effectiveness in keeping patients out of the hospital, Paxlovid was associated with lower rates of post-treatment emergency room visits, suggesting a lower likelihood of more severe rebound symptoms.
The researchers believe that providing such robust, near-real-time data confirming the benefits of particular therapies provides doctors with more confidence in prescribing treatments, and patients who are receiving these treatments with more reassurance. However, they note that real-world data platforms require multiple challenging-to-achieve collaborations between researchers with expertise including informatics, biostatistics, dissemination and implementation, clinical trials, and bioethics. The team plans to publish other real-world study results on the effectiveness of Remdesivir against Omicron subvariants, and an update on Paxlovid's effectiveness against more recent Omicron subvariants, including XBB.1.5 and BQ.1.
"As a physician who can treat patients in the outpatient setting, I would be very comfortable using Paxlovid as a first-line treatment for adults acutely infected with COVID during the current Omicron phase, vaccinated or not, provided there are no contraindications to its use," lead author Dr. Neil Aggarwal, UCHealth pulmonary disease specialist, said in a statement.