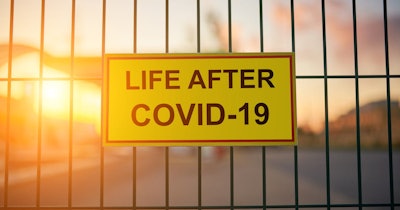 Long COVID, a post-infection inflammatory syndrome, is still significantly impacting the workforce. A report published by the New York State Insurance Fund (NYSIF), the state's largest worker compensation insurance fund, found that nearly a third of all 2022 workers' compensation claims were for long COVID, and that three years into the pandemic, nearly 18% of long-COVID patients haven't returned to work.
An estimated 7.7 million to 23 million Americans have been affected by long COVID—a total number likely undercounted since the study focused on patients requiring medical attention. The detailed analysis of NYS workers' compensation insurance claims found that 71% of claimants with long COVID were continuing medical treatment and unable to return to work for six months or more. Furthermore, most of the approximately 18% of long-COVID claimants unable to return to work for more than one year were under 60, the primary workforce age.
The NYSIF report concluded that long COVID may account in part for the many unfilled jobs and declining labor participation rate since the emergence of the pandemic. The American economy's future health depends largely on the health of its workforce, which includes addressing long COVID.
Since its August 2021 founding, Hackensack Meridian Health's COVID Recovery Center has treated nearly 400 patients for long COVID. One reason for seeking treatment and inability to return to work is impairment of short-term memory and tasks requiring calculations or sequential steps, commonly called brain fog. Other common reasons include fatigue and shortness of breath, especially for jobs that require physical exertion.
As neuroinflammation is considered a driving cause of long COVID, the center is focusing on therapies to modulate or decrease inflammation in the nervous system. Based on research studies, treatment options include the use of antihistamines, fish oil, and other medications to modulate the immune system or decrease inflammation. Patients receive education about low-histamine diets—including avoiding eggplant, spinach, tomato, and avocado. Brain fog is treated with brain training apps including Lumosity, Elevate, Peak, and the popular online game Wordle. For patients experiencing COVID-related loss of taste or smell, the center offers sensitization programs, exposing patients to five aromatherapy scents. Patients are closely monitored through follow-up in person or telehealth visits.
"The good news is that patients seem to respond over time to all of this," said COVID Recovery Center director Dr. Jonathan Shammash in a statement. "We've seen over weeks to months that with proper rest and adequate treatment, patients and their ability to perform their work and activities of daily living can improve."