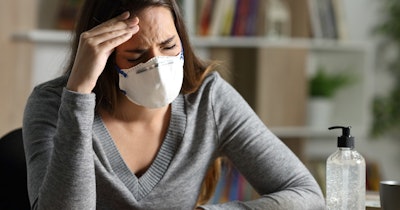 University of Missouri (MU) researchers have reported an unexpected discovery: people experiencing persistent COVID-19 effects -- known as long COVID -- are susceptible to developing only seven symptoms from a list of 47 top-reported long COVID symptoms for up to a year following infection.
The NIH-funded research, published recently in Open Forum Infectious Diseases, furthers ongoing knowledge of COVID-19's lasting impacts.
The team reviewed real-world data from electronic medical records containing deidentified information for medical research purposes. They analyzed 17,487 patients who received diagnoses for SARS-CoV-2 infection in a total of 122 health care facilities in the U.S. before April 14, 2022. Patients were propensity score-matched with other patients diagnosed with the common cold, influenza, or viral pneumonia from March 1, 2020, to April 1, 2021.
The researchers selected for investigation the top 47 most commonly reported long-COVID health symptoms, many of which are shared with other viral respiratory infections. They then looked for comparisons in the reported health symptoms among people in three different subgroups: People diagnosed with COVID-19 but without common viral respiratory infections; people with common viral respiratory infections who did not have COVID-19; and people who had neither COVID-19 or any other respiratory infections.
Before examining the data, researchers expected to find numerous symptoms specifically associated with long COVID, but that was not the case. Despite the abundance of long-COVID symptoms previously reported in other studies, the team found only seven symptoms related solely to SARS-CoV-2 infection: heart palpitations, hair loss, fatigue, chest pain, shortness of breath, joint pain, and obesity.
The research may enable better understanding of how SARS-CoV-2 may mutate or evolve by creating new, previously unknown connections.
Going forward, the researchers said that electronic medical records may quickly detect patient subgroups who may have these long-term health conditions. The findings may also provide healthcare providers with information about what to ask and what to look for when seeing patients with long-COVID symptoms.
The results could further benefit researchers examining other aspects of COVID-19, including the virus's impact on the brain or immune system.
The concept of long COVID was developed after clinicians began noticing that a group of people dubbed COVID-19 "survivors" still had disabling symptoms that sometimes prevented them from going back to work or resuming daily life activities.
"This is not because the COVID-19 infection is still active, but instead the infection has caused long-term consequences, or sequelae, in the form of a post-COVID syndrome that could persist for months or even years," explained MU neurology professor and co-author Dr. Adnan Qureshi in a statement. "Our research was able to identify long-term sequelae that are distinctive to COVID-19 and separate the post-COVID syndrome from other post-viral syndromes."