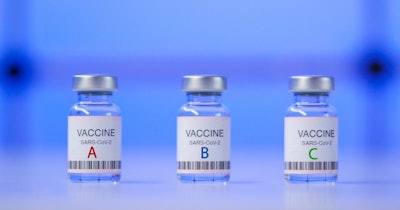 The U.S. Department of Health and Human Services (HHS) on Tuesday published a report that documented early challenges with state and local immunization programs distributing vaccines during the COVID-19 pandemic.
Such programs faced numerous challenges including achieving logistical efficiency, obtaining complete vaccine data from providers, combating vaccine hesitancy with public health messaging, and overseeing vaccine providers, said the report, which was issued by the HHS Office of Inspector General (OIG).
OIG recommended that based on its research, the Centers for Disease Control and Prevention (CDC), which provides assistance and awards funds for state and local immunization programs, should update its plans for mass vaccination programs. The CDC should also implement strategies that address awardee-reported logistical challenges and strengthen reporting of vaccine allocation data and administration data, the OIG said.
In general, the CDC supports vaccine programs that immunize individuals in their jurisdictions against vaccine-preventable diseases, including measles and influenza; its COVID-19 vaccination program is an extension of these efforts.
The agency also takes a leading role in laboratory testing during a pandemic. However, in March 202O, as U.S. laboratories sought to respond to demand for testing, the agency also faced challenges. It reported that there have been problems with some of the test kits it sent out to labs in states and said that it would likely need to remanufacture reagents.
A year later, as vaccine supply increased during the early stages of COVID-19 vaccination programs, awardees for such programs faced challenges in meeting their goals of immunizing the U.S. population, the OIG noted.
"As CDC makes ongoing program improvements, it can be assisted by understanding the challenges that awardees experienced with the COVID 19 vaccination program and the mitigation strategies they took," OIG said. "This understanding can also help CDC enhance routine immunization programs and better prepare for vaccination programs for future pandemics."
In its report, OIG further recommended that CDC clarify roles and responsibilities within HHS for vaccine public health messaging during a pandemic, and that CDC work with awardees to enhance current and future capabilities for provider training and oversight.
"We found that during the early stages of the COVID-19 vaccination program [in March 2021], awardees were experiencing challenges administering COVID-19 vaccines efficiently and equitably due to multiple factors," the report said. For example, "awardees reported challenges with vaccine logistics, such as large minimum order sizes for vaccines, requirements for ultra-cold storage, and insufficient ancillary supplies. Additionally, awardees reported challenges in obtaining complete, timely, and accurate vaccine allocation and administration data from both their providers and federal program providers, which impacted their ability to efficiently determine community needs."