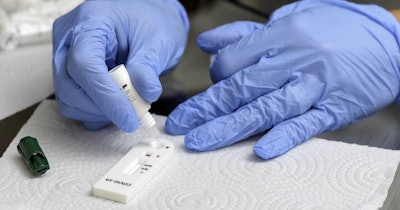 The Defense Logistics Agency has awarded a $410 million contract for the delivery of Access Bio COVID-19 test kits as part of a project supported by a U.S. coalition that includes AirBoss Defense Group (ADG), Maddox Defense, and U.S.-based test kit component suppliers.
ADG said the award demonstrates a strategic shift by the U.S. government toward an American-made and -sourced policy, intended to ensure domestic industrial base capability and capacity in areas critical to the U.S. response to a national emergency.
Somerset, NJ-based Access Bio obtained a U.S. Food and Drug Administration (FDA) Emergency Use Authorization for the CareStart COVID-19 Antigen test in 2021. The test provides qualitative detection of the nucleocapsid protein antigen from SARS-CoV-2 in nasopharyngeal or anterior nasal swab specimens.
Access Bio has commenced deliveries of about one-half of the tests agreed under the contract, valued at $205 million. ADG said that as a result of the deal, it expects to book $19 million in revenue during the next six months and up to $38 million over the lifetime of the contract.