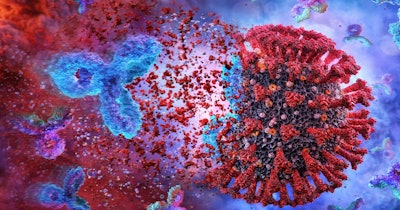 A study published in the Canadian Medical Association Journal (CMAJ) on Monday points to a significant change in the proportion of the Canadian population with SARS-CoV-2 antibodies over the first two and a half years of the pandemic and the probability that exposure to both vaccination and infection provides the most durable immunity.
The study, conducted by the British Columbia Centre for Disease Control (BCCDC) and involving almost 14,000 people, provides a clear view of the changing antibody landscape during the pandemic, and its findings hold implications for pandemic risk assessment and response, according to the authors.
During the pandemic, there was a change from virtually all pediatric and adult participants being immunologically naïve and susceptible to SARS-CoV-2 to almost all having been immunologically primed through vaccination or infection, or both.
By August 2022, most children and adults younger than 60 living in the lower mainland region of British Columbia, the location of the study participants, had acquired evidence of both SARS-CoV-2 vaccination and infection.
In the first year of the pandemic, most participants were immunologically naïve, or susceptible to the virus. "Thereafter, age-based vaccine roll-out dramatically changed the immunoepidemiological landscape such that, by September 2021, more than 80% of the study population had antibody evidence of immunological priming, while more than 85% remained uninfected," the authors wrote.
Exposure to vaccination and infection "likely provides stronger, broader, and more durable hybrid immunity than either exposure alone, especially against severe outcomes," the researchers added.
The findings related to the change in proportions of immunologically-naïve and immunologically-primed populations holds significant implications for pandemic risk assessment and response, the team observed.
"That is because primed individuals are expected to have swifter immune memory responses to reduce the risk, especially of severe outcomes, from novel viruses like SARS-CoV-2," Dr. Danuta Skowronski, principal investigator and lead author of the study, said in an email. "Our serosurvey shows we are now much better poised to achieve [a reduced risk of severe outcomes] compared to the start of the COVID-19 pandemic."
Older adults remain the most susceptible to severe outcomes. This population "remains most consistent with immunization goals to prevent serious morbidity and preserve health care capacity as the 2022-23 respiratory virus season begins," the authors wrote.
Consequently, they suggested, older adults should be prioritized for vaccination.
The BCCDC had launched a SARS-CoV-2 baseline serosurvey in March 2020. "Baseline assessment was followed by additional serosurveys that spanned the time from mRNA vaccine availability in mid-December 2020 through seven pandemic waves associated with multiple variants of concern to August 2022," the study authors wrote.
Eight cross-sectional serosurveys were conducted between March 2020 and August 2022, chronicling the evolution of pediatric and adult seroprevalence.
Participants were split into several age groups: 0-4; 5-9; 10-19; 20-29; 30-39; 40-49; 50-59; 60-69; 70-79; and 80 years or older. The team excluded individuals seeking SARS-CoV-2 antibody testing and residents of long-term care, assisted-living, and correctional facilities because of different pretest likelihood of positivity.
The first two serosurveys sampled 100 sera per age group; subsequent surveys sampled 200 per age group. The researchers obtained residual sera from the outpatient laboratory network LifeLabs and used at least three commercially available chemiluminescent immunoassays that target either the spike or nucleocapsid proteins for SARS-CoV-2. From this, they analyzed the antibody landscape and estimated seroprevalence in the population due to vaccination, infection, or both.
"By January 2021, we estimated that any seroprevalence remained less than 5%, increasing with vaccine rollout to 56% by May-June 2021, 83% by September-October 2021, and 95% by March 2022," the authors wrote.
Infection-induced seroprevalence was low throughout September and October 2021, but increased with the emergence of a series of Omicron waves by March 2022 to 42% and by July and August 2022 to 61%.
Additionally, by August 2022, "[70% to 80%] of children younger than 20 years and [60% to 70%] of adults aged [20 to 59] years had been infected, but fewer than half of adults aged 60 years and older had been infected," they continued.
The research team has plans to conduct further studies. "We plan further serosurveys among children, young adults, and most notably seniors to inform evolution in vaccine and infection-induced seroprevalence as relevant to ongoing risk assessment," Skowronski said.