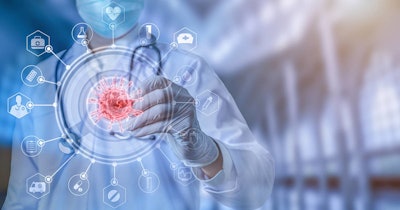 Israel-based Virusight Diagnostic and Technogenetics on Tuesday announced they have signed a memorandum of understanding to expand a collaboration that aims to commercialize a 20-second COVID-19 diagnostic test and develop additional diagnostic applications using the same spectrophotometer- and artificial intelligence (AI)-based technology.
Earlier this year, the firms launched a COVID-19 test, the TGS Velox Ag COVID-19 POCT Saliva, a CE-marked assay that is quite different from molecular diagnostic and antigen tests on the market. It leverages cloud-based AI, a portable spectrophotometer, and a kit developed by Italy-based Technogenetics that contains a reagent and consumables.
The assay is based on plasmonic resonance that detects the interaction of colloidal gold nanoparticles induced by the presence of SARS-CoV-2, the firms said. Following a clinical trial conducted in Italy, the 20-second spectral test for COVID-19 showed 96.3% accuracy when compared to the gold standard, reverse transcription-polymerase chain reaction (RT-PCR).
The test is now being deployed globally, the firms said.
Both the system and test are being demonstrated at the Medica international fair in Dusseldorf, Germany, from November 14 through 17.