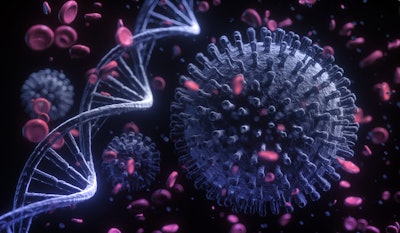 Thermo Fisher Scientific announced the release of a two-tube digital PCR (dPCR) wastewater surveillance kit, the Applied Biosystems Absolute Q SARS-CoV-2 Wastewater Surveillance Kit, and an RNA master mix for the detection of SARS-CoV-2 targets.
The kit provides absolute quantification of relevant SARS-CoV-2 targets from wastewater samples and provides results available within two hours, Thermo Fisher said.
Specifically, the kit consists of the triplex Absolute Q SARS-CoV-2 Wastewater Surveillance Assay and the Absolute Q 1-Step RT-dPCR Master Mix, which is optimized for multiplex and RNA target detection without a separate reverse transcription step, the company said, adding that the RT-dPCR Master Mix eliminates upstream cDNA conversion steps for quantitative RNA analysis.
"We developed the Absolute Q Wastewater Surveillance Kit to help simplify and accelerate the critical role that wastewater testing plays in detecting SARS-CoV-2 before potential outbreaks occur to guide and inform public health response," Paul Hung, senior director and general manager, dPCR, at Thermo Fisher, said in a statement. "Seeing how infectious disease surveillance has become imperative to public health policy on a global scale, we anticipate that the Absolute Q RNA master mix can be leveraged to detect other relevant RNA viruses in the future."