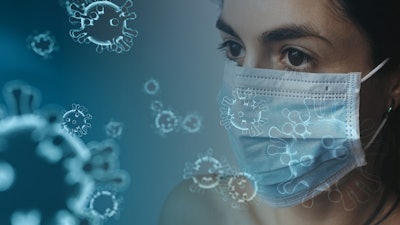 Oak Crest Institute of Science on Thursday announced findings from a study that evaluated the life cycle of COVID-19 infection in unvaccinated individuals and found implications for optimizing testing.
"Our findings can be used to develop guidelines for the clinical management of COVID-19 patients and optimize testing procedures to determine whether people are infected with SARS-CoV-2," Marc Baum, CEO of Oak Crest, a Monrovia, CA-based chemistry and biology research and education center, said in a statement.
The study was published earlier this month in Communications Medicine.
Nine individuals who developed COVID-19 between November 2020 and March 2021 participated in the study over the course of three months. Blood samples were evaluated for viral loads and associated inflammatory biomarker and antibody responses.
Early viral replication occurs rapidly, with a median doubling time of 3.1 hours, providing a narrow window between exposure and viral shedding, the study said. In addition, the clearance phase is slow and heterogenous, and host immune responses differ widely across participants, Oak Crest said.
"We measured the speed at which SARS-CoV-2 reproduces in unvaccinated individuals at various timepoints, between when they first became infected and [when] there was no longer any detectable virus present in their bodies," Baum said. "We also measured changes in their immune responses."