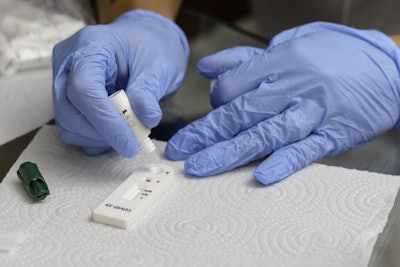 University of California Los Angeles (UCLA) health researchers said in a recent study published in Open Forum Infectious Diseases that rapid antigen tests can be useful tools to guide return-to-work policies after a SARS-CoV-2 infection.
Such policies remain particularly important for healthcare systems whose workforces can reach critically low levels during COVID-19 spikes.
PCR tests detect viral nucleic acids (RNA) and are used for diagnosing COVID-19 but nucleic acids can continue to be detected beyond the point when someone is still infectious. By comparison, antigen tests detect proteins from the virus, which is typically only present when an infectious virus remains, making them a better proxy than the PCR test for indicating infectiousness, the researchers said.
"While antigen tests are less sensitive than PCR tests in detecting a COVID-19 infection, antigen tests can help answer the question 'is someone infectious for COVID-19?'" Dr. Paul Adamson, study coauthor, said in an email interview. "[We] used those antigen tests to help determine which [healthcare workers] might be safe to return to work following COVID-19 infection."
The researchers conducted an optional antigen test study from Dec. 25, 2021, to Feb. 4, 2022. During that time, "2,316 HCWs had a positive SARS-CoV-2 PCR result. Among those, 870 participated in the return-to-work antigen testing program," the authors wrote. The rapid antigen test occurred five or more days after the initial positive PCR test. 93.9% of participants had received a vaccination, while 67.4% were fully vaccinated and boosted, the study team said.
Of the 870 participants, "there were 478 (54.9%) negative results, 385 (44.3%) positive results, and 7 (0.8%) indeterminate results," the team wrote. The researchers also found that "[a]ntigen test positivity following symptom onset or positive PCR test was 61.3% (57/93) for [less than five] days, 46.5% (308/662) for 59 days, and 17.4% (20/115) for [more than or equal to] 10 days."
"The most important findings were that the majority of healthcare workers were still antigen positive five to seven days after an infection," Adamson said. "At the time, this was unknown and was [a higher number] than initially expected."
Antigen tests may thus be used to shorten the duration of isolation following COVID-19 infection. "In fact, the CDC guidance has now been updated to include guidance about using antigen testing to shorten the duration of isolation," Adamson added.
The team recommended that other healthcare systems use these findings to implement similar procedures for triaging healthcare workers during periods of acute staffing shortages.
The researchers noted some study limitations, including that only a portion -- about 37% -- of the total UCLA healthcare worker population participated in the program.
The authors further wrote that "data on any possible occupational or nosocomial transmissions among [healthcare workers] were not available; however, given universal masking procedures… and that [healthcare workers] were only allowed to return to work following a negative antigen test, the risk is expected to be very low."
"It is true there are somewhat limited data on antigen testing among [healthcare workers] following COVID-19 infection, but more data continue to emerge," Adamson said. "UCLA Health continues to implement the rapid antigen testing program and will monitor the results as part of an ongoing program evaluation."