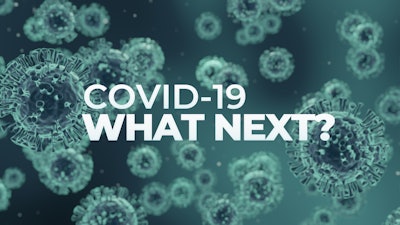 The timing may be right for the U.S. Food and Drug Administration (FDA) to gradually move away from the Emergency Use Authorization (EUA) process it had introduced at the beginning of the pandemic, according to some industry observers.
The agency now wants many firms that are looking for permission to market new COVID-19 tests to pursue traditional pathways that were prevalent prior to the pandemic.
Developers of all test types, including the reverse transcription-polymerase chain reaction (RT-PCR) and rapid antigen tests that were launched more frequently than any other types of tests since March 2020, should pursue authorization through the FDA's de novo classification or 510(k) clearance premarket review pathways, the agency said.
Going forward, FDA intends to review only a small subset of new EUA requests for COVID-19 diagnostic tests.
"Testing remains one of the key pillars in combating the COVID-19 pandemic," Dr. Jeff Shuren, director of the FDA's Center for Devices and Radiological Health, said last week. "For most new tests, shifting to traditional premarket review would best meet the public health needs at the current stage of the COVID-19 public health emergency."
The announcement last week has been on the horizon for some time. Mara Aspinall, managing director of BlueStone Venture Partners and a former president and CEO of Roche's Ventana Medical Systems, noted in an interview that the agency had spoken last year about a future transition from EUAs to 510(k) or de novo approvals.
"However, the public health emergency [for which the EUA process was launched] is not over," Aspinall said. Most importantly, with its announcement last week, the FDA is demonstrating that it is "proactively managing the process and making clear what it is prioritizing for EUA requests and supplemental EUA requests," she said.
The FDA said that moving forward it generally intends to focus its review on EUA requests and supplemental EUA requests from experienced developers in numerous scenarios. These instances include the following:
Diagnostic tests that are likely to have a significant benefit to public health (such as those that employ new technologies)
Diagnostic tests that are likely to fulfill an unmet need (such as diagnosing infection with a new variant or subvariant)
Supplemental EUA requests for previously authorized tests when the request is intended to fulfill a condition of authorization or includes a modification that will significantly benefit public health or fulfill an unmet need
Tests for which the EUA request is from (or supported by) a U.S. government stakeholder, such as tests funded by the Biomedical Advanced Research and Development Authority (BARDA) or the National Institutes of Health's Rapid Acceleration of Diagnostics (RADx)
In September, the NIH had announced it will provide $300 million in funding to diagnostic test manufacturers for the development of the next generation of COVID-19 tests, with a focus on improved accessibility. The funding is part of the RADx program, an initiative launched on April 29, 2020, to facilitate innovation in the development of COVID-19 tests.
The timing may now be right for a move toward a more rigorous clearance process for most COVID-19 tests, according to Robert Boorstein, medical director of Lenco Diagnostic Laboratory in New York.
"The EUA process for COVID was appropriate because we needed to get as many people as possible developing and using as many tests as quickly as possible," Boorstein said in an interview. "Nonetheless, from a regulatory viewpoint, COVID has been an exception, and the EUA process allowed a lot of tests to get into circulation with a lot of variability and quality concerns."
As a result, it is a suitable time for the FDA "to now set tighter ground rules and encourage manufacturers to conduct more rigorous validation of their tests that is typical of a full submission," he said.
Laboratories are likely to welcome more rigorous processes for regulatory approvals because such processes instill greater confidence in the quality of testing products, he said.
Boorstein noted that during the pandemic his laboratory purchased some tests that had been given the green light under the EUA regulatory pathway but could not be put into production because of quality issues.
"In using its EUA authority, FDA also made calculated decisions to increase availability of COVID-19 testing, but these decisions often came at a potential cost to test quality," the U.S. Department of Health and Human Services Office of Inspector General (OIG) noted in a recent report. "FDA authorized tests used lower levels of evidence to support developers struggling to access clinical samples. FDA's policies allowed diagnostic and serology tests to get on the market quickly; however, that resulted in some problematic tests on the market, requiring further action by FDA."
Commenting in Sensitive and Specific: The Testing Newsletter, Aspinall and Liz Ruark wrote of the OIG report, "By comparison with the somewhat scathing headlines we've seen about it, the document itself reads like a gentle rebuke from parents telling a kid that yes, you made a few mistakes on that last assignment, but we know you were trying, and you can do better next time.
"As the report notes, the FDA should put better systems in place for communicating with labs and diagnostic manufacturers and needs to improve and streamline guidance for EUA submissions."
To date, FDA has issued EUAs for more than 430 COVID-19 tests, a number that has enabled sufficient testing capacity for COVID-19 tests in the U.S., according to the agency.
The U.S. has the capacity for authorized manufacturers to produce hundreds of millions of tests per month, although the number of tests available for use at any given time will depend on demand and other factors, FDA noted.
Tests for which EUA authorization requests are pending prior to last week's announcement of a policy change will remain in the queue for review, FDA added.
"The FDA is probably correct to begin to shift developers into the de novo or 510(k) submission routes," Nathan Ledeboer, medical director of clinical microbiology at Medical College of Wisconsin, said in an interview. "We have already seen the first 510(k)-cleared COVID test, and many of the well-known test developers have already begun or have submitted for 510(k) clearance. As the pandemic begins to wane and as SARS-CoV-2 moves into the epidemic phase, we should expect movement to the standard review process that has been well established for respiratory viruses."
Nonetheless, whether the agency has adequate resources to respond to the expected influx of applications for clearances and approvals based on traditional regulatory pathways is an unresolved question.
"It's a central issue," Aspinall said, adding that additional government funding may be needed to ensure the agency is properly equipped to handle applications in a timely manner.
"We need to ensure that there's not a gap in test availability, or in public and provider confidence about the tests," she added.